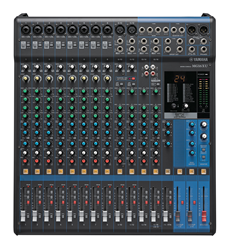 Buena Park, Calif. (PRWEB) May 14, 2014
The new small-format MG Mixers from Yamaha are now shipping.
The redesigned MG Series provides compact, cost-effective and great sounding solutions for install, recording or live settings. Ten models, which continue the tradition of design and performance excellence that made the MG mixer line so popular, incorporate technologies originally developed for high-end professional mixers, including studio-quality preamps, powerful digital signal processing and rugged, reliable construction.
All MG models come with Yamaha state-of-the-art discrete Class-A D-PRE microphone preamps. By using an inverted Darlington circuit topography, these studio-grade preamps feature multiple circuitry elements designed to provide more power, deliver lower impedance and supply an impressively wide frequency range that can handle signal from any source without coloration while faithfully retaining the original sound.
With varying input/output and processing capabilities, the new MG Series includes four XU models that feature an upgraded version of the renowned Yamaha SPX effects processor, including a comprehensive suite of 24 different effects that add professional polish to any mix (upgraded from the 16-effect version in the previous MG series). A favorite of sound engineers since their introduction more than 25 years ago, SPX processors have become the industry standard for both recording and sound reinforcement applications. The smallest model, the MG06X, includes six popular SPX presets. Five Standard models range from six to twenty channels.
Four new XU models offer digital connectivity and software that streamlines the recording process, including Steinberg Cubase AI. A USB 2.0 audio interface capable of 24-bit/192kHz sound quality allows for playback of digital content from a PC and recording of the mixer output using DAW software. USB Audio Class 2.0 is also supported so that compliant tablets and other devices can be used without installing drivers. All models in the XU line are compatible with Apple's Camera Connection Kit or Lightning-to-USB Camera Adapter for seamless recording and playback of digital audio content to and from an iPad or iPhone.
The MG mixers also feature high pass filters, input pads and 48-volt phantom power. Models with more than 10 inputs are equipped with newly-upgraded, 1-knob compressors that add optimized compression to a wide variety of input sources with the touch of a single control.
Pricing and Availability
Yamaha MG Mixers (MSRP: $129 to $929).
For more information, please visit http://4wrd.it/livesound.
-END-
About Yamaha
Yamaha Corporation of America (YCA) is one of the largest subsidiaries of Yamaha Corporation, Japan and offers a full line of award-winning musical instruments, sound reinforcement and home entertainment products to the U.S. market. Products include: Yamaha acoustic, digital and hybrid pianos, portable keyboards, guitars, acoustic and electronic drums, band and orchestral instruments, marching percussion products, synthesizers, professional digital and analog audio equipment, Steinberg recording products and Nexo commercial audio products, as well as AV receivers, amplifiers, Blu-ray/CD players, iPod docking systems, home-theater-in-a-box systems, earphones, headphones, sound bars, and its exclusive line of Digital Sound Projectors. YCA markets innovative, finely crafted technology and entertainment products and musical instruments targeted to the hobbyist, education, worship, professional music, installation and consumer markets.