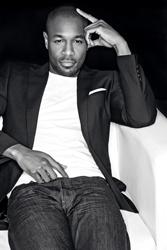 From connecting with my loyal fans in an intimate setting, to jamming to nonstop beats from two of the world's most eminent DJs, I am ready to kick-off Texas Black Expo with an unforgettable night, said Tank.
Houston, TX (PRWEB) May 08, 2014
Texas Black Expo, host of the largest African-American empowerment festival in Texas, will kick-off its 11th Annual Juneteenth Summer Celebration with 'Black Friday,' a star-studded celebration at House of Blues Houston, June 20, from 8:00 p.m. to 2:00 a.m. Nine-time Grammy-nominated R&B singer/songwriter/producer, Tank, will host the epic bash as world renowned, crowd-rocking DJs, Kid Capri and Biz Markie, keep the turntables blazing.
"From connecting with my loyal fans in an intimate setting, to jamming to non-stop beats from two of the world's most eminent DJs, I am ready to kick-off Texas Black Expo with an unforgettable night," said Tank.
'Black Friday' is an exclusive event. A limited number of tickets will be available by Friday, May 9 at texasblackexpo.com/events for $30. Music enthusiasts and social tastemakers, ages 21 and older, should prepare for heart-pounding party experience.
"I'm going to rock at 110 percent, that's the only way I do it," said Kid Capri. "I want everybody feeling the energy and feeling the music, non-stop, from beginning to end."
The glamorous Foundation Room at HOB is designated as the uber elite VIP lounge. Entry is exclusively reserved for Texas Black Expo sponsors and event partners. Email: blackfridayvip(at)texasblackexpo(dot)com for more information on Foundation Room access. Kid Capri will be on the 1s and 2s in HOB main hall, Biz Markie will rock the VIP.
"I'll be doing more than just spinning Black Friday," said Biz Markie. "I'm bringing a larger-than-life experience with banging beats that'll rattle the building."
The 11th Annual Texas Black Expo Juneteenth Summer Celebration takes place from June 19 – 22 in Houston. In addition to 'Black Friday,' events include an Old School Hip-Hop and R&B concert, health and wellness exposition, entrepreneur and youth empowerment summits, and a business and entertainment trade show. The all-star line-up of celebrity guests, includes lyricist MC Lyte, music sensations Morris Day and The Time, and nationally-syndicated radio host, Tom Joyner, among others.
For more information, including a full schedule of events, visit texasblackexpo.com, or follow @TexasBlackExpo on Twitter, Instagram and Facebook.
ABOUT TEXAS BLACK EXPO
Texas Black Expo is a nonprofit organization with a mission to stimulate growth and development within urban communities by strengthening businesses, inspiring youth, and building better lives. Founded in 2003, the Expo and has successfully touched more than 120,000 lives with business development programs, youth entrepreneurship initiatives, health and wellness expositions, and community events. For more information, visit texasblackexpo.com, or @TexasBlackExpo on Twitter, Instagram, and Facebook.
ABOUT TANK
Durrell Babbs, better known as Tank, is the self-proclaimed "General of R&B" who has created some of the genre's most sensual, emotion-evoking love songs. He's an icon in the making, with four albums and nine Grammy nominations under his belt. Fans know Tank for his smash hits "Maybe I Deserve" and "Please Don't Go," but he is also the man behind the songs from some of R&B's biggest stars such as Jamie Foxx, Chris Brown, Jennifer Hudson, Kelly Rowland, LeToya Luckett, Keyshia Cole and more. For more information about Tank, visit therealtank.com.
ABOUT KID CAPRI
Kid Capri has survived every era of hip-hop and emerged each time with a renewed sense of purpose and something new to contribute to the culture. Born David Anthony Love in the Bronx, New York, Kid Capri has always been creatively ambitious, scaling his family's old Zenith stereo system in an attempt to scratch records before he was even ten years old. His face first became a part of the cultural landscape on the wildly popular Russell Simmons Def Comedy Jam where he gave much of the world its first taste of live-performance hip-hop, as the first ever to perform live on TV as a DJ. Today, he is known as a multi-faceted talent and hailed as one of the most relentless, most relied upon to rock a party, most dynamic and larger-than-life DJ in the history of hip-hop. For more information about Kid Capri visit, kidcapri.com.
ABOUT BIZ MARKIE
The legendary Biz Markie brings more than 26 years of solid hip-hop acumen and an overwhelming fan-base that stretches from New York City to Japan to Europe. At the age of 14, Marcel Hall dazzled his neighborhood under the alias of Biz Markie. Now 26 years older and immensely wiser, Biz continues to be universally praised by the ever-fickle and unforgiving hip-hop industry. No easy feat to accomplish, Biz is the definition of longevity and has managed to remain one of the most notable artists and DJs in the industry. For more information about Biz Markie, visit bizmarkie.com, or @bizmarkie.