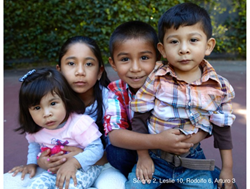 The support of our most vulnerable population must become a major priority of all our varied faith traditions in Los Angeles.
Los Angeles, CA (PRWEB) May 08, 2014
Educating clergy of all faiths about fostering and adoption and the importance of their support in finding safe homes for foster children in Los Angeles County is the focus of the Interfaith Foster Care Summit on May 14, 10 a.m. to 1 p.m., at University Synagogue in Brentwood, California. The summit launches FaithInFamily.org, a new initiative sponsored by a coalition of fost-adopt agencies, religious organizations, and adoption advocacy groups. The new website will launch for the first time that day.
"With more than 18,000 children in the foster care system, Los Angeles County is seriously in short supply of families certified for foster and adoptive placements," says Sari Grant, Recruitment Administrator at the Los Angeles County Department of Children and Family Services (DCFS). "We are proud to participate in this combined outreach effort to encourage and inspire more individuals and families in faith-based communities to join us in addressing the needs of our children."
In addition to DCFS, there are more than eight agencies, covering all corners of Los Angeles County, who are cooperating in this unprecedented initiative. They include Bienvenidos Children's Center, Five Acres, ImagineLA, Penny Lane Centers, Serenity Infant Care Homes, Southern California Foster Family and Adoption Agency, and Vista Del Mar Child and Family Services. Together with the guidance and support of national foster and adoption advocacy nonprofit organizations RaiseAChild.US, Children's Action Network, and Kidsave, this coalition has joined forces in FaithInFamily.org, an interfaith service to help couples and singles of faith to build families through fostering and adoption. FaithInFamily.org offers free supportive services to prospective foster and adoptive parents in both English and Spanish.
The Interfaith Summit is the brainchild of Robert R. Duke, Associate Professor of Religion and Philosophy at Azusa Pacific University in Azusa, California. The Jewish Federation of Greater Los Angeles awarded Robert with a grant to help fund the idea he was moved to initiate because of his own experience as a foster father.
"Fostering is something we all need to care about regardless of where we live in Los Angeles County," says Duke. "The call to help children connects across cultures and religions. Anyone with a passion for helping children should consider becoming a foster parent."
University Synagogue has taken a leadership role in supporting the growth of the Interfaith Foster Care Summit.
"Our synagogue is hosting the summit because we believe all faith-based organizations have a very important role in raising awareness of the needs of foster children across Los Angeles County," says Julie Munjack, Executive Director of University Synagogue.
"Our tradition teaches us to care for the needy and the oppressed," explains Rabbi Morley T. Feinstein regarding University Synagogue's commitment to the project. "From ancient times until now we follow the commandment, 'Give justice to the weak and the fatherless.'"
Father Alexei R. Smith, Ecumenical and Interreligious Officer for Archdiocese of Los Angeles, emphasizes the importance of the interfaith community responding to the call for foster and adoptive parents. "The support of our most vulnerable population must become a major priority of all our varied faith traditions in Los Angeles. I urge my ecumenical and interreligious colleagues to join me at this Interfaith Foster Care Summit."
Among the free services offered by FaithInFamily.org, its unique Parent Advocate Program provides information and ongoing support to prospective parents as they move through the process from orientation and training to matching and placement. Support is available via the toll-free phone number (844) 9-FAMILY or (844) 932-6459. Support will be available by email at info(at)faithinfamily(dot)org beginning May 14, the day the website launches.
Children's Action Network is dedicated to finding homes for the more than 107,000 children in the United States who are waiting for an adoptive family and to improving outcomes for children in foster care.
RaiseAChild.US is a 501 (c) 3 national nonprofit organization that believes that all children deserve a safe, loving, and permanent home. RaiseAChild.US educates and encourages all people to build families through fostering and adoption to serve the needs of the 400,000 children in the U.S. foster care system.