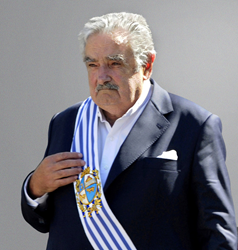 Miami, FL (PRWEB) May 12, 2014
Nobel Peace candidate Uruguayan President José Mujica is expected to meet U.S. President Barack Obama for the first time on May 12 at Washington DC, and Renato Ferreira, Founder and President of LOBRAUS, is excited to accompany the Uruguayan leader.
LOBRAUS is an American Logistics and Distribution Company established in Uruguay for over 10 years with projects for distribution to and from the Mercosur, a South American Union based on economic and political agreements between Argentina, Brazil, Paraguay, Uruguay, Venezuela and Bolivia. LOBRAUS plans to invest over USD 100 million in logistics infrastructure, both at the Port of Montevideo and on specific logistics areas within Uruguay.
Jointly with Mujica's ministers and Uruguayan official authorities, an entrepreneurial delegation which includes LOBRAUS will be accompanying the Uruguayan President throughout his visit.
The visit will underline the close U.S. alliance with Uruguay, and highlight the strong support for the Mujica Administration's leadership on human rights, social inclusion, and global peace and security.
It is expected that the meeting between the two politicians, postponed several times in the past two years, will be conducive to discussing bilateral and regional issues, discussing ways to grow bilateral economic ties between the U.S. and Uruguay, and improving market access for each other's goods and services. Also expected to be discussed are several topics, such as U.S. collaboration with Uruguay on science, technology, and health, increased educational exchanges between both countries, and multilateral issues including peacekeeping.
This meeting has aroused great expectations in the U.S., considering that the issues under discussion are key matters for Uruguay, one of Latin America's most prominent countries and a strategic U.S. ally in the region, and that these discussions involve the charismatic figure of President José Mujica, a well-known left-leaning politician and former communist guerilla member who has gained the world's recognition for his austere life style and pragmatic decisions.
Mujica will be on a tight agenda including not only a one-on-one meeting with Barack Obama, but also an official lunch with Joe Biden, a conference at the School of International Services and a meeting with The American Society and Council of the Americas, amongst others.
Also, Mujica is expected to assist with a breakfast organized by the U.S. Chamber of Commerce on May 13, addressed to entrepreneurial and financial audiences, where American businessmen will network with and explore potential businesses in Uruguay and other South American markets.
For more information register here: https://www.regonline.com/Register/Checkin.aspx?EventID=1549624
Economically and politically stabilized country, strategically located in South America, Uruguay offers foreign companies a safe investment environment, taxation reliefs for investments and reliable legal structures such as the Free Port Law, unique in South America, in order to promote Foreign Direct Investment.
For additional information, please contact:
Dr. Nicolas Constantinidi
LOBRAUS Free Port
Tel +1 (786) 879-8448
E-mail: nicolas(at)LOBRAUS(dot)net
http://www.LOBRAUS.net
LOBRAUS YouTube Channel: https://www.youtube.com/user/lobraus