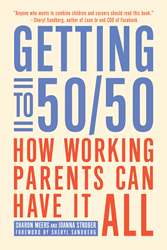 When both spouses work, there are two backs to carry the financial load—and less stress on both of you. If you parent equally, you have the best salve for the agitation of child rearing—companionship.—Sharon Meers and Joanna Strober
(PRWEB) May 08, 2014
Sharon Meers and Joanna Strober, co-authors of Getting to 50/50: How Working Parents Can Have It All, were featured in the Chicago Tribune in an article exploring why childcare shouldn't just be a mother's responsibility. The piece was sparked by a survey of the best states for working mothers, which didn't take into account the effects of childcare on working fathers and/or their children.
Meers and Strober were quoted as working parent experts, saying "When both spouses work, there are two backs to carry the financial load — and less stress on both of you. If you parent equally, you have the best salve for the agitation of child rearing — companionship." They explain that parents and children are both better off when childcare is a shared responsibility.
Sharon Meers and Joanna Strober will also be speaking on how to thrive as a working parent on May 27 at the Commonwealth Club in San Francisco, from 5:30-7pm.
Getting to 50/50 (also available in audio)
A game-changing read that's set to do for the cultural dialogue around working families what Lean In did for working women. In Getting to 50/50, Sharon Meers and Joanna Strober share personal stories, compelling social science and a practical roadmap to help women - and men - stay engaged with their kids without sacrificing their careers. Getting to 50/50 offers encouragement, hope, and confidence to any parent who has ever questioned their choices regarding career and family.
Sharon Meers is the coauthor of Getting to 50/50, now out in paperback. Find her online at @Gettingto50_50, Getting to 50/50 Facebook, and http://www.gettingto5050.com. Currently, Sharon is the Head of Magento Enterprise Strategy, which is part of eBay Inc., a global commerce and payments leader. Formerly, Sharon was a Managing Director at Goldman Sachs.
Joanna Strober is the Founder and CEO of Kurbo, an online company developing a platform and tools to help fight and prevent childhood obesity. Formerly, she was a direct venture capital investor and private equity investor for over 20 years.
Sharon and Joanna both live in the San Francisco Bay Area with their husbands and children.