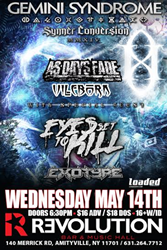 Amityville, New York (PRWEB) May 08, 2014
VileBorn, the notorious Long Island metal-heads, will be playing with national touring acts Gemini Syndrome and Eyes Set to Kill at Revolution in Amityville (formerly Ollies Point) on the night of Wednesday, May 14. Also joining the bill is national act Exotype and local favorite As Days Fade. Tickets can be purchased online.
Eyes Set to Kill have been featured on the cover of USA Today and hail from Phoenix, Arizona. They have been featured as one of Alternative Press Magazine's "100 Bands You Need To Know", and even hosted an episode of MTV's Headbangers Ball.
Gemini Syndrome is a hard rock band from Los Angeles California. They are currently signed to Warner Brothers Records. Their current hit, "Stardust" is one of the top songs on hard rock radio this season.
VileBorn has opened for a number of national touring acts in the last year, including Straight Line Stitch (E1 Music – Universal Music Group), 40 Below Summer (London-Sire Records – Warner Music Group), and My Ticket Home (Rise Records). VileBorn released their debut 4 song EP, "Vileated" in January of 2014.
Buy the "Vileated EP" on iTunes here: https://itunes.apple.com/us/album/vileated-ep/id792815778?uo=4.
Buy tickets to the show here: http://vileborn.bandcamp.com/merch/ticket-for-vileborn-w-gemini-syndrome-may-14th-amityville-ny.