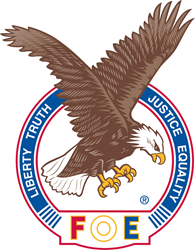 It brings us great pride to watch the world celebrate 100 years of Mother's Day, knowing how much work was done by Eagles to make this occasion possible. That commitment to excellence carries on today...
Los Angeles, CA (PRWEB) May 07, 2014
The American nationwide observance of Mother's Day celebrates its 100th anniversary this year. In 1914, President Woodrow Wilson signed a Congressional Bill designating the second Sunday every May in honor of mothers, following a decade of activism led by the Fraternal Order of Eagles (FOE). Many trace the origin of Mother's Day to a movement begun in 1904 by Eagles Past Grand Worthy President Frank E. Hering, which would prove to be the first of the organization's many history-making accomplishments.
In the decades to follow, the FOE has played a similarly prominent role on a broad array of social and philanthropic causes, including helping launch Social Security and Medicare and ensuring legal protection against job discrimination based on age. This Mother's Day, the Eagles celebrate the completion of $25 million, multi-year commitment to establish the Fraternal Order of Eagles Diabetes Research Center at the University of Iowa, a state-of-the-art medical research facility dedicated to the prevention and potential eradication of diabetes.
Hering, a Notre Dame football coach and history professor and two-time FOE Grand Worthy President from South Bend, IN, made the first public plea for the establishment of a nationwide Mother's Day during an event held at Indianapolis' famed English Opera House. The inspiration had first come to him from a teaching colleague who set aside classroom time once a month to make his students scribble a postcard to their mothers.
Hering urged the Eagles to honor "the great things of the world that have been achieved by mothers' love and devotion" and suggested that one Sunday each year be dedicated for that purpose. The idea was firmly embraced and promoted by the membership, and within a short time, several states had moved to formally establish Mother's Day observances. The growing movement helped galvanize lobbying efforts that led to legislation in the U.S. Congress for the Wilson proclamation. Anna Jarvis, the other major crusader for a memorial day for mothers, suggested the date in May.
Michelle Obama tops the list as the most admired mother in the United States according to a poll commissioned by the Fraternal Order of Eagles in honor of the 100th anniversary of the national observance of Mother's Day. Forty percent of the 1,000 registered voters polled picked Ms. Obama from a list of fifteen "real life moms." Placing second was Barbara Bush at 34%, followed by Laura Bush 32% and Hillary Clinton 26%. The field was rounded out by Angelina Jolie at 25%, Kate Duchess of Cambridge at 24% and Nancy Reagan at 20%. Participants could select more than one choice on the list. The poll was conducted online on March 29-30 by Luntz Global and has a margin of error of 3.1%. Luntz Global is one of America's best-known and most respected public opinion and strategic communications firms.
Remarkably, the FOE was founded only six years before Hering's speech by a group of six theater owners in Seattle, WA. Meeting to decide on how to settle a musicians' strike, the competitors also came up with the idea to join together in a non-profit organization dedicated to "uniting fraternally in the spirit of liberty, truth, justice and equality, to make human life more desirable by lessening its ills, and promoting peace, prosperity, gladness and hope." The popularity of the organization spread rapidly via the nationwide circuit of theaters and the promotion of touring actors, stagehands and playwrights who were among the earliest members. Their ranks have broadened to include seven former U.S. Presidents, celebrities and other notables from all walks of life.
Today, 800,000 members based in over 1500 chapters ("Aeries") and 1300 women's Auxiliaries raise in excess of $100 million each year to benefit local communities and charities. They have also donated millions of dollars to aid medical treatment and research on a host of conditions, most recently with a priority on the prevention and cure of diabetes.
"It brings us great pride to watch the world celebrate 100 years of Mother's Day, knowing how much work was done by Eagles to make this occasion possible," Eagles' Grand Worthy President David Tice said. "That commitment to excellence carries on today as a signature of the Eagles and shines through in our efforts to find a cure for diabetes at The Fraternal Order of Eagles Diabetes Research Center."
For more information, visit http://www.foe.com
Video Link: http://youtu.be/Jl6X05Knfyw