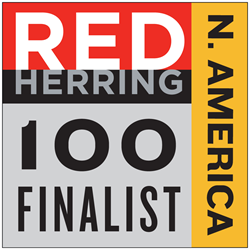 Chandler, AZ (PRWEB) May 08, 2014
appsFreedom, the leading provider of Model-Driven, Agile Platform-as-a-Service, announced today it has been selected as a finalist for Red Herring's Top 100 North America award, a prestigious list honoring the year's most promising private technology ventures from the North American business region.
Finalist selections for the 2014 edition of the Red Herring 100 North America award are based upon technological innovation, management strength, market size, investor record, customer acquisition and financial health. Twenty major criteria underlie the scoring and process. These criteria include, among others: the candidate company's addressable market size, its IP and patents, its financing, the proof of concept, trailing revenues and management's expertise. The list of finalists often includes the best performing and prominent companies of that year.
"Red Herring has always been known as an authoritative source in showcasing game-changing technologies and companies," said Vaidy Iyer, Founder & CEO of appsFreedom. "Its an honor and only further validates appsFreedom's innovations in providing a robust platform for non-programmers, across industries, to deliver mobile & web apps in 5 days or less."
2014 will be remembered as a special vintage. "The finalists list confirms the excellent choices made by entrepreneurs and VCs and the start-ups' solid roots in corporate America, embracing their innovations. By all metrics, it emphasizes the United States' entrepreneurial excellence," said Alex Vieux, publisher and CEO of Red Herring.
About appsFreedom
appsFreedom™ is the leading provider of a Model-Driven, Agile Platform-as-a-Service, enabling non-programmers to easily build Mobile and Web apps, fully integrated to IT's core applications in 5 days or less. appsFreedom drives business productivity by delivering 'Workplace Freedom' for employees, through the Freedom Platform to collaborate, build, deploy and run apps in a multi-channel, multi-device environment with a simple user-based subscription model. Apps are built once and deployed for all devices in the cloud, on-premise or in a hybrid model. Global companies across the industry spectrum rely on appsFreedom for the highest ROI in the marketplace. Learn more at http://www.appsFreedom.com.