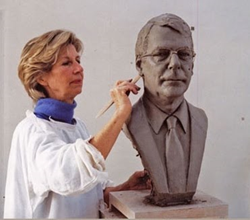 I see in the sculpture of Ancient Egypt the perfect combination of material, line, volume and tension.
The Hague, The Netherlands (PRWEB) May 08, 2014
For the fifth consecutive year, Eva Mennes, the newest member of SynaptIQ+, The think tank for social era knowledge, is sponsoring the exhibition of art at Duin & Kruindberg Country Estate at Santpoort, North, in The Netherlands, via EVA ARTPRODUCTIONS, Eva's non-profit foundation.
Anne Curry, the sculptor whose photos will accompany the Spring Issue of The Journal for Social Era Knowledge, will be on view along with eight other internationally renowned artists.
The exhibit continues until the end of September and is free of charge.