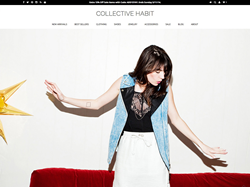 San Francisco, CA (PRWEB) May 08, 2014
CollectiveHabit.com, the online boutique for distinctive and edgy independent designer fashion, has recently re-launched its website on the Shopify e-commerce platform. The new design reflects the bold and modern approach of the online fashion store, which caters to shoppers seeking stylish and unique pieces from emerging brands and international designers.
The minimalist homepage design showcases dynamic and interactive browsing elements –such as product carousels and featured collections—alongside vibrant lifestyle imagery and inspirational content from the Collective Habit blog.
Enhancing the overall user experience helps to emphasize founder Kimberly Lim's goal of creating an online shopping haven where consumers can find styling advice, discover up-and-coming brands, and purchase covetable items at a reasonable price.
"What we offer at Collective Habit is totally apart from other e-tailers, especially the larger ones," says Lim. "Even though our merchandise is on trend, it's not mainstream. Many of the labels we carry are emerging designers or lesser-known brands with great potential, and we want to introduce them to shoppers who are craving something really special in their closets."
A Friend In Fashion
Working out of her home office in San Francisco, Lim's mission is to introduce shoppers to a carefully edited collection of fashion-forward must haves and go-to essentials that will enhance their style and add value to their wardrobes. Her vision of bridging the gap between high fashion and reality for consumers like herself is the inspiration behind the brand. Since first launching in November 2011, CollectiveHabit.com has been featured in top fashion blogs and online publications such as Fashionista, Refinery29, and named by Racked.com in May 2013 as one of "The 38 Best Places To Shop for Indie Designers on the Internet."
For more information please contact:
Kimberly Lim
650-784-0895
kim(at)collectivehabit(dot)com
https://twitter.com/collectivehabit
https://www.facebook.com/collectivehabit
RELATED LINKS
http://collectivehabit.com/