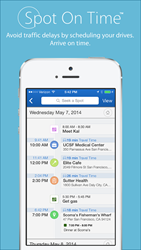 Campbell, California (PRWEB) May 08, 2014
OT Mobility, Inc, the makers of Spot On Time, the first app to help people simplify driving to multiple destinations and arriving on time, today announced a new version of Spot On Time. The new mobile calendar integration lets drivers add driving time and traffic-aware departure alerts to driving-related calendar events. You can see a demonstration here.
"For most people who routinely drive to sales meetings, after school team practices and other destinations in succession, getting to each spot on time is often harried," said Dave Rothschild, CEO of OT Mobility, Inc. "However, with this new release, we have greatly improved drivers' day-to-day driving by giving them an ability see their future events and let Spot On Time schedule the time needed to drive to each destination and be on time. Spot On Time will monitor traffic and let them know when to leave for each drive so that they arrive on time."
Spot On Time is in response to an increasingly busy day-to-day driving environment experienced by moms, coaches, salespeople and other business professionals who desperately want less stressful drives. Spot on Time makes it possible for anyone who routinely drive to time-sensitive business meetings, appointments, friends' homes, or to after school activities, to plan them in advance and later be at each spot on time.
With Spot On Time's new version, drivers' calendar events are in the Spot On Time schedule. Spot On Time allows users to choose which events require driving and then assign desired arrival times to the Spot associated with the calendar event. Then, as the departure time nears, Spot On Time sends traffic-adjusted email and push departure alerts. Spot On Time also allows users to select desired parking for each Spot, so the appropriate walking time is added to total travel time, thus improving the daily drive routine.
The drivers' stress is lessened because they can schedule their future trips, get alerted when to leave (adjusted for traffic), use navigation tools if needed and be routed to their preferred parking. And, during each drive, they have a very clear Time Banner to show if they are on time, early or running late.
"Time is precious and so is peace of mind," Rothschild added. "I'm pleased we've created such a useful app that is making immediate and noted improvements to peoples' lives by reducing driving stress and increasing their ability to drive to spots and be on time."
About OT Mobility, Inc.
Founded in 2012, OT Mobility, Inc. created Spot On Time to ease the complexities of driving. Spot On Time integrates scheduling, alerting, mapping and parking app all in one. For more information about Spot On Time, please visit the company's website at http://www.spotontime.com.