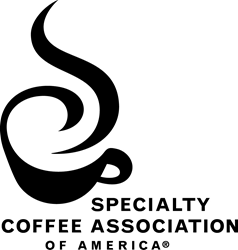 We're extremely proud of Joe and Chris. This certification reflects their dedication to the highest professional standards in the specialty coffee industry. - Greg Ubert
Columbus, Ohio (PRWEB) May 08, 2014
Joe Blankenship and Chris Shegitz, coffee quality technicians for Ohio coffee roaster and coffee franchise alternative Crimson Cup Coffee & Tea, have earned Golden Cup Certification from the Specialty Coffee Association of America. The certification recognizes coffee technicians who demonstrate expert understanding of the SCAA Brewing Standards and the five points of quality for brewed coffee.
"We're extremely proud of Joe and Chris," said Greg Ubert, founder and president. "This certification reflects their dedication to the highest professional standards in the specialty coffee industry."
To earn certification, the technicians completed SCAA courses in coffee brewing and extraction, Golden Cup fundamentals and brewing technologies. They then traveled to the annual SCAA Exposition in Seattle, Wash. to take the Golden Cup Certification exam.
As SCAA Certified Golden Cup Technicians, Blankenship and Shegitz are now authorized to conduct on-site inspections as part of the Golden Cup Award program, which recognizes purveyors of quality coffee. The award is a testament to skill in coffee preparation and equipment management, two important elements toward delivering a perfect cup.
As part of Crimson Cup's Seven Steps to Success program, Blankenship and Shegitz work with independent coffee houses, restaurants, food service operations and colleges and universities that serve Crimson Cup beverages. They perform coffee quality checks on espresso machines and drip coffee brewers and instruct owners and staff in calibrating and maintaining equipment to produce coffee of consistently excellent quality.
The Seven Steps form the basis of Crimson Cup's coffee shop franchise alternative program, which has helped owners of more than 250 independent coffee shops in 28 states start and maintain successful businesses. Based on Ubert's book, Seven Steps to Success in the Specialty Coffee Industry, the program teaches prospective coffee house owners and their staff everything they need to run a profitable coffee house or café.
"Education, sharing knowledge and training are a huge part of what we do," Ubert said. "We developed the Seven Steps program as an alternative to expensive coffee franchises because we have a passion for helping independent coffee shops succeed."
Available to all Crimson Cup customers, the Seven Steps program offers comprehensive training on every aspect of operating a coffee shop – from choosing a location and writing a business plan to store layout, equipment selection, marketing and more. In addition to training, customers receive ongoing support in marketing and operations.
About Crimson Cup Coffee & Tea
Since 1991, Crimson Cup Coffee & Tea has hand-roasted specialty coffee in Columbus, Ohio and taught independent business owners how to be successful through its coffee shop franchise alternative program. Sustainably sourced Crimson Cup coffee is available through a network of more than 350 independent coffee houses, grocers, college and universities, restaurants and food service operations across 28 states, as well as the company's own Crimson Cup Coffee House in the Columbus suburb of Clintonville. For more information, visit crimsoncup.com.