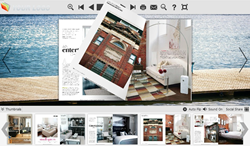 (PRWEB) May 08, 2014
FlipHTML Software Co., Ltd is pleased to announce a powerful upgrade to the popular flipbook software. The HTML5 publishing solution has numerous flexible features which meet users' needs. Flip HTML5 is easy to install and use when converting PDF files to digital flipbook animation. The features are available on desktop and mobile devices. It comes in Mac and Windows versions.
Speaking to an interviewer recently, a spokesperson for the company explained, "The software provides powerful online cloud service, which allows users to convert unlimited PDF to animated HTML5 digital catalog online. The flexibility of the software meets users' needs without the requirement for programming skills. Installation of the trial version of the software only requires a few minutes."
He continued, "Some of the features that allow for maximum customization include embedded links and video and audio files into your publication. Multimedia elements which may be added to Flipbook are music players, video players, Flash, shapes, images and video slideshows and others. Readers can choose to use a flip look or a slide look for page-turning.
In addition to PDF files, the software supports nearly all office software, including *.doc; *.docx; *.ppt; *.pptx; *.xls; *.xlsx; and *.odt. The Gold or above edition of Flip HTML5 is required. Image files including *.jpg; *.jpeg; *.png; *bmp are also supported. It is convenient and easy to convert images to an HTML5 flip book, which makes static images more attractive and dynamic. The Gold or above edition is required for image conversion.
Learn more about the Flip HTML5 software by visiting the web pages found at http://fliphtml5.com/ today. Members of the press and others with additional questions about the contents of this press release are encouraged to contact the company via email.