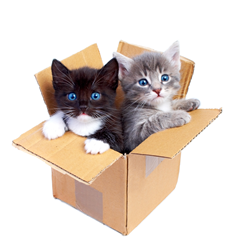 Kitten Season is in full swing at the SPCA of Brevard!
Titusville, Florida (PRWEB) May 08, 2014
No one can resist a bunch of cute, snuggly, fluffy kittens – especially not the staff at the SPCA of Brevard! That is why this time of year is such a struggle for shelters everywhere, including the SPCA. "Florida is currently in what is called kitten season, which occurs from April until November," says Debra Cantwell, SPCA Adoption Coordinator, "and it's when kittens are born in record numbers to unaltered female cats who are allowed to roam outdoors."
Several times a week during kitten season, motherless litters of very young kittens, oftentimes just days old, are brought to our shelter by good Samaritans, after they find them abandoned and in dire need of care. Pregnant and nursing cats are also surrendered to the SPCA and other local shelters, as well. Those cats and their babies usually do not survive at the County-run shelters unless the SPCA or other rescue groups take them.
It takes an enormous amount of time, energy and resources to help all the kittens survive, which is why the SPCA is hosting its first ever Kitten Shower on Saturday, May 17th from noon – 2 pm at its Cat Adoption Center in Titusville (425 Cheney Highway). Guests will have the opportunity to meet adorable kittens and stay for fun shower games, snacks, refreshments and bottle-feeding demonstrations. They will also be able to learn more about becoming a temporary foster caregiver for kittens and other pets in need.
The Kitten Shower Wish List, which are vital supplies needed to care for kittens, includes Kitten Milk Replacer (KMR) Powder, Kitten Bottles, Canned Kitten Food, Dry Kitten Food, Snuggle Safe Microwave Heat Pads and Kitchen Scales. The full list can be found at the SPCA's Amazon Wish List: http://amzn.to/1bOImIr. Guests that bring item(s) from the Wish List to the Shower will receive free tickets to enter for raffle prizes that will be drawn throughout the party.
Please RSVP to 321-267-8221 extension 248. Local businesses or clubs that would like to participate as donation drop-off sites are needed as well. Contact Susan Naylor at the same phone number or email spcamedia(at)spcanorthbrevard(dot)com.
###
About SPCA of Brevard
The SPCA of Brevard is a private, non-profit organization with the mission of "protecting and providing a voice to the homeless animals of Brevard County." Founded in 1979 in Titusville, Florida, the SPCA is the largest private no-kill animal rescue group in Brevard, finding homes for more than 1,300 animals a year. It is the first adoption facility with free-roaming cat rooms in the County, allowing adopters to interact with the cats in a more home-like setting. The SPCA of Brevard Clinic also provides reduced-price vaccines to the public and has performed more than 50,000 low-cost spay/neuter surgeries since 1999.
For more information, visit http://www.spcabrevard.com.