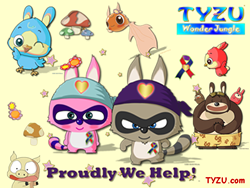 Vancouver, Canada (PRWEB) May 08, 2014
TYZU is an animation development team devoted to creating cartoon characters and designing cool T-shirts, hats, shoes, toys, cups, etc. Since 2009, TYZU has produced a series of cute characters and funny cartoon videos. On YouTube, TYZU cartoon has more than 1.8 million views.
At the same time, TYZU Cartoon likes to donate their royalty income to various charities, such as: Doctors Without Borders, Invisible Children, etc. Now, TYZU is to donate 50% of royalties to help sick kids. "We are not those big and rich guys, just some small people with big hearts. From each T-shirt sold we get 1.5 or 2 bucks only, but we would like to donate half, and enjoy the happiness of knowing we've helped children in hospitals," said Victor J. Ma, the team leader in TYZU.
"We are kind of curious about how well we can do. Can we make it, let's say $1,000 in a month? And how long will it take to make a $1,000,000 donation for sick kids in the hospital? We expect we can reach the goal within 10 years," continued Victor.
Selling things in stores or streets and donating a share to charities is not a new idea, but TYZU will do it in a new way. Since TYZU is just a small team of artists, short of hands, they will do this sell-and-donate online entirely. "Perhaps you will call us crazy guys, but we plan to realize this dream via the Internet and social networks: a big Million dollar donation for sick kids in children's hospitals in North America, within 10 years!" Victor added. People can see what is happening on their Facebook Page at https://www.facebook.com/TYZU.Cartoon and Twitter at https://twitter.com/TYZU.
"We do not like to do traditional, boring things. We like to do exciting and funny things. We're cartoon guys, remember?" Victor explained, "We are some cartoon designers who are willing to do small good deeds. We do almost everything online. We are happy to donate 50% royalties to the sick kids at local places where buyers are. Let's see how far we can go."
For more details about TYZU Cartoon donation plan, please visit: http://www.TYZU.com.
About TYZU:
TYZU Enterprises Inc. is based in Nicknamed "Hollywood North" - Vancouver, British Columbia, Canada. They have a hot creative designer and animator team dedicated to characters, animations, and cartoons. From storyboarding projects to short cartoons or long animation films, serial educational animations and interactive games, TYZU excels at all forms of animated graphics.
Contact:
Victor J. Ma
Tel: +1-778-230-1683
E-mail: info(at)tyzu(dot)com