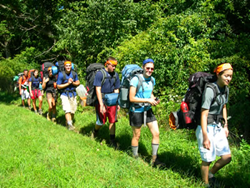 One doesn't have to be rich to travel well.
(PRWEB UK) 12 May 2014
As Eugene Fodor rightly put it; 'One doesn't have to be rich to travel well'. Travelling is a great way to lose and also find oneself at the same time. Someone once truly said that to travel is to really take a journey within. What better way to travel than to be a part of the local culture, embracing life in a new city like one of its own? Backpacking is a form of budget travel where a tourist travels with nothing but his backpack, courage and lots of charm!
There are a number of countries that have special visas for backpackers that allow them to earn while they travel. JoGuru lists some of the best backpacking destinations around the world.
1. Mexico
Mexico is a backpacker's paradise. A real bang for the buck and an absolute treat for solo travellers, Mexico becomes a friend the minute one steps foot on it. It's extremely safe and offers plenty of opportunities for all kinds of travellers – it has a diverse cultural heritage, breathtaking natural beauty and lots of mystical towns to explore. The food is well renowned and the infamous Mexican chilli casts an intoxicating spell on the most seasoned gourmand. Wash all this down with a refreshing aguas frescas and finish up with the rich arroz con leche, one will find heaven on earth!
2. Portugal
Perhaps the best bet for a backpacker in Europe, Portugal is every bit as charming and captivating as it's more glamorous and expensive sisters, Spain and Italy. Its location also makes it a good entry point to the rest of Europe. All good things in Portugal are, like they say about life...free! Most of the best sights in Porto are free of charge and Lisbon has an interesting variety of hostels for a budget traveller. Besides, most of what Portugal has to offer is hiding in plain sight; its old world, laid back elegance, the romance of the hill-side retreat Sintra, the jazz filled streets of the upper city in Lisbon. Portugal is exotic yet warm, overwhelming yet homely.
3. Indonesia
It's easy to forget that one is on a shoe string budget in Indonesia. Extremely cheap and multifarious, Indonesia offers so much more bounce for the ounce! Imagine a country that is made of 17000 islands, all which have different topographies and natural wonders! Indonesia is so much more than lying on the pristine beaches of Bali. A surfer's paradise and a gypsy's haven, this country is a small wonder in itself. Although transportation could get a little tricky here, the food and sleep options will more than make up for the discomfort.
4. Argentina
Argentina is changing every second. It's picturesque landscape and poetic beauty mesmerizes the visitor beyond words. Argentina is great if one is a fan of nature; the mighty Iguazu falls, unbelievable rainforests and some of the highest peaks in the world adorn Argentinean landscapes. Travel off the beaten path and go far beyond the comfort zone, there's so much to be thankful for here. Relish the juiciest steaks and ruby red wines, tango the night away in this South American wonderland.
5. Nepal
The biggest souvenir that one takes back from Nepal is the memory of smiling, friendly faces. Nepal is a feast not just for the eyes but also for the wallet! The colossal Himalayas as a backdrop and the peace of mind that most other countries lack, Nepal has views that will stay in the heart forever. A dream destination for avid trekkers, Nepal does not disappoint nature enthusiasts one bit. Add to that the hospitality of its people; one will be glad to have hopped on to that shaky flight.
6. Czech Republic
Czech Republic is perhaps Central Europe's best kept secrets, this new born republic does a fine job of entertaining even the most demanding tourists. The beauty of this country lies in the mystique that surrounds it; chateaux and castles abound, the culture and architecture of Czech will hypnotize an enthusiastic traveller. With many options of hostels and cheap accommodations, one doesn't need to be loaded to experience the opulence of this country.
7. Tanzania
As one of the few friendly and relatively safe countries in Africa, Tanzania really has some world class sights to experience. Whether its the Wilderbeest migration in Serengeti or the stunning Kilimanjaro peak or the spell binding blue waters of Zanzibar, Tanzania gives a backpacker so many reasons to fall in love! Tanzania is like an impulse that turns out to be the best decision of a lifetime.
Backpacking is not just an option for those on a shoe string budget. Many have chosen this way to see the world in its most unpretentious, raw form. If one looks through a backpacker's eye, there's so much to discover even in the most remote corner of the world!