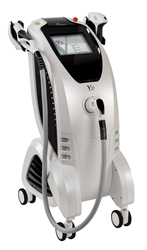 Physicians the world over will be able to confidently use the V30 Platform, secure in the knowledge that the advanced and proprietary laser, IPL and RF technologies incorporated into the system, have received the highest stamp of approvals
New Jersey, NJ (PRWEB) May 08, 2014
Viora, a leading medical aesthetics solution provider, is proud to announce that their newest product development, the V30 multi-technology platform, has attained FDA certification in the US and the CE mark for the European market. These achievements will allow practitioners around the world to benefit from Viora's advanced, proprietary technologies in one device, as well as the unique combination protocols ensuring the highest clinical outcomes.
The V30 has received CE clearance for the V-ST, V-FR, V- IPL and V-Laser Nd:Yag handpieces, which enable the physicians to offer their patients vascular lesions, nail fungi, skin rejuvenation, hair removal, pigmentation lesions, skin resurfacing and acne scar clearance, skin tightening and acne clearance. In the US, the FDA clearance is indicated for the V-ST, IPL and Nd:YAG Laser handpieces, ensuring patients have access to the most advanced vascular lesions, nail fungi, skin rejuvenation, hair removal, pigmentation lesions, and acne clearance treatments available.
"We are excited to obtain these regulatory certifications for V30, our innovative multi-technology platform. This important accomplishment in the marketing process confirms Viora's adherence to safety and efficacy for our customers, reiterating our commitment to ensuring that we provide the best solutions for our customers and their businesses," said Meital Ben-Tovim, General Manager, Viora. "Now physicians the world over will be able to confidently use the V30 Platform, secure in the knowledge that the advanced and proprietary laser, IPL and RF technologies incorporated into the system, have received the highest stamp of approvals from the most discerning regulatory bodies."
About V30
Viora's V30 Platform is the first in a line of platform systems to be introduced by Viora which provides a flexible solution for customers, allowing the use of interchangeable handpieces. Physicians can acquire each specific technology as they need it, as well as ensuring easy upgrades and the implementation of additional technologies, when developed. This gives practitioners a greater variety of treatments to offer their patients, and enables them to successfully grow their business.
About Viora
Viora, a leading provider of medical aesthetic solutions, is passionate about helping customers deliver the most effective results to their patients. Viora improves upon treatment experiences by enhancing existing technology to give customers the best non-invasive solutions available. With a presence in over 65 countries, Viora's non-invasive products address a wide range of symptoms, treating today's most commonly requested applications for anti-aging, body & facial contouring, cellulite reduction, acne clearance, stretch mark reduction, hair removal, skin lightening and more. For additional information, visit http://www.vioramed.com.