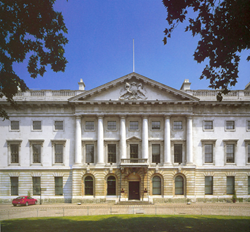 We have an in-depth understanding of the process of forging a new coin for public distribution. We believe this visitor centre will not only enhance people's love of rare coins, but also their understanding of the great work The Royal Mint does.
London, UK (PRWEB UK) 9 May 2014
It took hundreds of years and a house fire to motivate the Queen to open never before seen parts of Windsor Castle to the public, and now it would appear that after a little over 1,000 years, and no fire, the Royal Mint has seemingly decided to follow suit.
In an unprecedented move and motivated only by their innate desire to share a magnificent piece of history with the average man and women in the street, Britain's oldest manufacturing organisation, and the world's leading export mint, based now in Llantrisant, South Wales, will officially open its doors to the general public.
Although no official date for the opening of the visitors centre has been made known, what is known is that The Royal Mint will allow those who visit to get behind the scenes of this historical organisation through a personal guided tour that along the way will detail exactly how the coins they use in everyday life are designed and made.
Just like visitors to Windsor Castle are given the opportunity to take home a keepsake of their tour, guests of The Royal Mint will also apparently be given the opportunity to strike their own coin as an everlasting memento of their visit. Construction of the purpose built visitor centre in Wales will begin this spring, subject to planning permission, and is expected to be completed during 2015.
Elliot Basker, Online Business Manager, Hallmark Coins, said, "We take for granted each and every day when we hand over a coin that so much thought, man hours and beautiful design has gone into producing them.
"With the opening of the visitor centre at The Royal Mint, we hope that people will begin to appreciate the great work that they have done over the years. Hopefully it will also spurn a new generation of numismatic enthusiasts and investors who will carry the practice of coin collecting forward."
As well as gaining first-hand knowledge of the journey which coins and medals make from start to finish, visitors will also be able to enjoy a range of static and engaging, interactive experiences that will bring to life The Royal Mint's rich heritage and reveal many rare and unusual coins and medals from the across the world.
Of course you will appreciate that an undertaking of this size will not come cheaply. In fact according to a general news report entitled 'Royal Mint Visitor Centre' written by Phil Mussell of Token Publishing, the publishers of coin news and medal news on 24 April 2014, the new visitor centre has been made possible after The Royal Mint secured a grant of £2.3million from the Welsh Government to carry out the work, contributing to the total £7.7million costs of the project.
Those in charge say that it will be money well spent as the visitor centre will be a truly unique visitor experience with up to 200,000 UK and overseas visitors expected each year. Shane Bissett, Director of Commemorative Coin and Bullion at The Royal Mint, said, "The visitor centre will enable us to take people behind the scenes of over 1,000 years of coin making history, to demonstrate our long-standing heritage and craftsmanship, and the innovation that harnesses state-of-the-art technology to achieve the highest standard of minting."
This will not just be of interest to UK visitors; The Royal Mint currently makes coins and medals for approximately 60 countries worldwide, so visitors from around the world will be able to see where their coins are created.