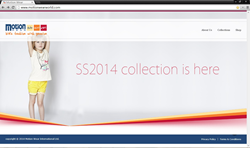 (PRWEB) May 12, 2014
With the launch of the new online store http://www.MotionWearWorld.com/shop, Motion Wear aims to offer a one stop solution to parents around the world who seek for the highest level of comfort, versatility and style in children's fashion. The latest Spring/Summer 2014 collections features diverse range for infants from 6 months all the way through to children up to 8 years old.
Motion Wear has been producing exceptionally fashionable and chic children's wear that combines great style aesthetics and maximum comfort for almost two decades. From the use of high quality cotton to scratch-free printed labels (instead of tags) to adjustable and elastic waistbands designed to adapt to children's rapid growth in different stages, Motion Wear is dedicated to provide maximum comfort for the wearer and peace of mind for the parents knowing that their child can focus on enjoying all the little adventures in their daily activities and lifestyle.
The key to Motion Wear's design philosophy is based on the individuality of each child which is essentially a reflection of their lifestyle, activity level, and personal preference. Motion Wear puts a strong focus on versatility in all of its designs. Four distinct themes are created each season for boys and girls – with the Mini Collection catering to infants from 6 months to 36 months and the Kids Collection catering to young children from 3 to 8 years old.
The rising temperature made a long list of outdoor activities possible for young children in the Spring/Summer months. Whether it be a day out on the beach, a picnic at the park, or a visit to the zoo, there is something for your little prince and princess to stay fashionable, stylish and comfortable with Motion Wear. Keeping in mind the diverse lifestyles modern day parents and children alike have, Motion Wear ensures that each collection features a wide range of extremely versatile pieces, perfect for mix-and-matching, and marked by a global style sensibility that is contemporary, wearable and timeless.
Dedicated to offering our customers with a satisfaction guaranteed shopping experience, Motion Wear online store offers a 100-day no-questions-asked return policy as well as free international shipping. Be the first to shop the latest Motion Wear collection at http://www.MotionWearWorld.com/shop.
-Ends-
ABOUT MOTION WEAR
Motion Wear was founded in 1995 in Holland with an aim to bring to the market an alternative to traditional children's fashion which was primarily sold in sets and ensembles. With a limited selection available, parents often had to compromise style for comfort or vice versa. Motion Wear wanted to offer children around the world a full range of pieces designed for everyday wear. With presence in over 90 retail locations, Motion Wear has been the leading children's wear brand in Europe and its designs have been worn and loved by fashionable children and parents since its establishment in 1995. Motion Wear went global with the launch of its online store in May 2014 making its collection accessible to customers around the world.