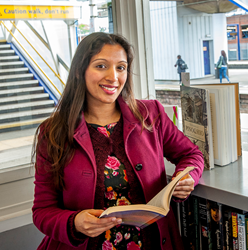 We think the station is probably one of the most sustainable in the country.
(PRWEB UK) 10 May 2014
Click on this link to download pictures of St Albans station, the book club, solar panels and other sustainable features: https://drive.google.com/folderview?id=0B1oujwXPy9eIdENLT0tPQzJxMTQ&usp=sharing
St Albans City station has been hailed as one of Britain's most sustainable station following a 'novel' idea launched this week.
A new book exchange has opened with bookcases installed in the waiting rooms on platforms 2/3 and 4 supported by charity Healthy Planet which is dedicated to saving literary tomes from landfill.
And a new array of solar panels has come into use which generates up to 30% of the station's annual operational needs.
St Albans' other 'green' credentials include:

More cycle spaces (1,150) than any other station in the UK, helping passengers swap cars and buses for the bike to reach their train
Electric trains, which are the greenest form of public transport
Electric car charging pods
LED lights on the newly-refurbished footbridge and in Ridgmont Road car park
Keith Jipps, First Capital Connect's Customer Service Director said:
"We want to help our passengers have a green journey to and from St Albans and we think the station is probably one of the most sustainable in the country.
"Our electric trains are already the greenest form of public transport and the station has our first electric car charging points and more bike rack spaces than any other in the country."
"Now, the new book swap scheme will save hundreds of novels from landfill and give our passengers a good read on their journey with us, while our new solar panels will generate up to 30% of the station's operational needs."
Station team leader Tasha Hodges and station assistant James Allen both had the idea of the book exchange for passengers and are thrilled at its initial success after it was launched yesterday (7 May).
Tasha said: "The book exchange has gone really well – a lot of people are very interested in what we are doing and have picked up books to read on their journey. Quite a few are asking if they can bring in books – they think it's a really good idea."
James, who has been advertising the new service across the station Tannoy, said: "The whole team here at St Albans does its very best to give our passengers – our customers – the best service we can. Giving people something to read en route makes their journey that little bit more pleasant."
Keith added: "First Capital Connect's latest offer is a real page turner – pick up a recycled novel for free and keep the planet healthy."
Ends
Editor's notes
About the book exchange and Healthy Planet
One of the core projects for 'Healthy Planet' is 'Books for Free'. Healthy Planet save millions of books from pulping or landfill and store them in empty units ready to give away. In just over 3 years, they have saved 3 million books and created more than a few new readers.
Passengers are able to pick up a free book from the station to either read while they wait for their next train or take the book away with them to enjoy on their journey. There is no onus on the member of the public to bring the book back, however it is hoped this will encourage passengers to bring along books they no longer require or even swap their books with those on the station.
About First Capital Connect
First Capital Connect (FCC) operates trains from London to Bedford, Brighton, Wimbledon and Sutton on the Thameslink route and Peterborough, Cambridge and King's Lynn on the Great Northern route.
Approximately 180,000 people travel with FCC every weekday – 95,000 on the Thameslink route and 85,000 on the Great Northern route.