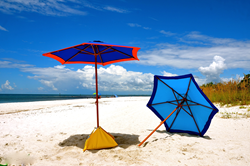 We feel that the retail beach goer will now have a complete solution for providing a stress free day at the beach. - Bill Schermerhorn
Colfax, NC (PRWEB) May 15, 2014
The beachBUB® beach umbrella base, is not the only new beach advancement coming from beachBUB USA. During the initial rollout of the beachBUB® customers came back and asked if there was an umbrella on the market that would stay up on a very windy day. The beachBUB® has been tested in a sustained 42 MPH wind. For 3 months the research team at beachBUB USA gathered requirements mainly through focus groups and then took those requirements to the marketplace. They met with over 15 umbrella manufacturers and have announced that they have a prototype umbrella that beachBUB® customers have asked for.
BeachBUB USA researchers identified key improvement features that this new umbrella needed. The most important upgrade was a much stronger frame. The frame for the typical beach umbrella is made up of a pole, it's locking mechanism, the fixed and movable hubs and the canopy ribs. All components needed upgrades to withstand the new wind standard of 35MPH. Just like a chain "its strength is determined by its weakest link".
The research team learned early on that these upgraded features came with a price. Bulkiness, weight and cost became roadblocks to finding the perfect solution. Most manufacturers had umbrellas that met the new specifications but were very heavy, costly and in most cases needed a pulley system to open and close them. By taking the best options from several different makes and styles beachBUB® was successful in producing a prototype. The key features of this new umbrella are:

Wind tested at 36MPH for 2 hours
Weighs 8 lbs for easy transport
Convenient padded carry strap and case
Easy open and close button feature
Heavy duty latch to secure upper umbrella to bottom pole
Reinforced umbrella canopy at key stress points
Elongated pole point to punch into sand
Receiver hole in bottom pole to secure beachBUB® collar in correct spot
Tie strap on umbrella to wrap and tie umbrella for transport
7 ½ foot canopy to meet some new beach size requirements
Retail price mid $50
A version of this prototype was released for sale in April. Twenty umbrellas were introduced and sold in Naples Florida with great fan fare. Laura Sloat, Market Manager at Shoppes at Vanderbilt farmers market comments, "I purchased the beachBUB® Base and the beachBUB® Umbrella set the first week it was available at the market. I thought it was a great idea and was perfect for me because I had been looking for an umbrella so it was a no brainer to purchase and the price was right! I've used it twice and it's held up perfectly."
beachBUB USA's design team took feedback from these customers and have incorporated their ideas and comments into the final prototype. BeachBUB USA's executive team plans to sign off on the final prototype after quality inspections are completed by months end. BeachBUB Umbrellas will go on sale in retail stores and through the company's website starting early in July 2014.
"We feel that the retail beach goer will now have a complete solution for providing a stress free day at the beach," said Bill Schermerhorn, President of beachBUB USA. "For those that are using the beachBUB® along with the beachBUB Umbrella they can have that cool shady spot on the beach even on a sunny windy day."
About beachBUB USA:
beachBUB USA is a family owned and operated company based in Colfax, NC and envisioned in Naples, FL.
Marketing/Sales Contact:
Lucy Schermerhorn
http://www.beachbub.com
336-580-0189