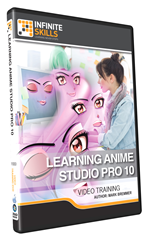 Learn Anime Studio Pro 10 at your own speed.
(PRWEB) May 08, 2014
Software training firm Infinite Skills Inc. this week released its "Learning Anime Studio Pro 10 Tutorial," an introductory course teaching the essentials for learning to produce professional quality animations with this vector-based 2D animation software.
Anime Studio Pro is used for both anime and other styles of animation. It includes functions to export its animations as flash cartoons and produce cutout-style animation. The program uses vector morphing instead of frame-by-frame animation, allowing users to create single-scene films faster than other programs.
With Infinite Skills' "Learning Anime Studio Pro 10," beginning animators can learn the fundamentals of animating, and users of every level will learn advanced concepts in working with Anime Studio Pro.
Learning Anime Studio Pro 10 Tutorial - Streaming Video
Course author Mark Bremmer has worked as an illustrator and animator for more than 20 years. He has been a featured speaker at the National Association of Broadcasters and written articles for 3D World, 3D Artist and Micro Filmmaker Magazine. He has worked with animation teams for clients such as The Golden Globes, The Grammys, The History Channel, The National Football League, and more.
The course begins with an overall review of Anime Studio Pro 10 and moves through all the elements of Anime Pro's tools, working toward a final project where users are guided through the production of a short movie.
Bremmer then quickly moves into a detailed look at Anime Studio's interface, covering the general layout, the various tool palettes, using the timeline, setting preferences, and more.
From there, the course goes in-depth with Anime Studio Pro's drawing tools. He teaches the basics of starting and importing drawings, how to create organic shapes, use brushes, styles, and provides a look into Anime Studio's 3D capabilities.
Bremmer covers best practices for using bones and animation rigging, showing how to work with key-frames, how to use cycling animation, and other advanced features.
"Anime does a bunch of cool stuff," Bremmer says. "You will learn how to integrate all the toolsets into a segment to be used with a broader animation project."
Free demo videos and a full list of course contents can be found on the Learning Anime Studio Pro 10 training page of the Infinite Skills website:
http://www.infiniteskills.com/training/learning-anime-studio-pro-10.html
Infinite Skills offers its Anime Studio Pro 10 Training Video either as a DVD or a direct download from the company website at a retail price of $99.95. Though the compatibility of programs varies, all Infinite Skills titles and formats are compatible with both Mac and Windows operating systems, and shipping is available around the globe. Additionally, Infinite Skills tutorials are supported by project files which correspond to examples in the videos.
About Infinite Skills Inc.
A leader in the field of software training, Infinite Skills designs its courses on a task-oriented model, teaching complex skills by providing hands-on examples and guiding users as they carry out essential functions. Infinite Skills offers a wide range of software titles available as DVDs, digital downloads, and in iPad editions. Infinite Skills now offers a subscription service, providing access to all its training content for a monthly fee, keeping with company's aim of delivering professional training to customers anywhere they want to learn.