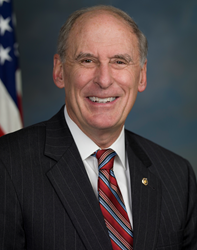 Silver Spring, MD (PRWEB) May 08, 2014
Sen. Daniel Coats, R-Ind., has joined the SIA Government Summit as a keynote speaker, scheduled at 10:45 a.m. on June 3 at the W Hotel in Washington, D.C., the Security Industry Association (SIA) announced today.
Coats, the ranking member on the Senate Appropriations Subcommittee on Homeland Security, will join a keynote speaker lineup that includes Dr. Reginald Brothers, undersecretary of homeland security for science and technology. As the top Republican on the Senate subcommittee that sets homeland security spending, Coats wields significant influence over the policy priorities of the Department of Homeland Security.
"The addition of Sen. Coats as a keynote speaker sets the stage for an impactful and informative SIA Government Summit," said SIA CEO Don Erickson. "We welcome the senator's insight on the budget process and funding priorities, which will be valuable information for attendees of the Summit."
The SIA Government Summit brings together the public and private sectors to discuss legislative and regulatory matters of importance to the security industry. The two day conference, held June 3-4, also provides attendees with unique policy insights that help create new market opportunities.
Registration for the 2014 SIA Government Summit is open at http://www.securityindustry.org/summit. Members of the press interested in attending please contact Mickey McCarter, SIA manager of communications, at mmccarter(at)securityindustry(dot)org.
For more information on the SIA Government Summit, contact Elizabeth Hunger, SIA manager of government relations, at ehunger(at)securityindustry(dot)org.
The Security Industry Association (SIA) (http://www.securityindustry.org) is the leading trade association for electronic and physical security solution providers, with more than 500 innovative member companies representing more than 300,000 security leaders and experts who shape the future of the security industry. SIA protects and advances its members' interests by advocating pro-industry policies and legislation at the federal and state levels; creating open industry standards that enable integration; advancing industry professionalism through education and training; opening global market opportunities; and collaboration with other like-minded organizations. As a proud sponsor of ISC Events expos and conferences, and owner of the Securing New Ground® conference, SIA ensures its members have access to top-level buyers and influencers, as well as unparalleled learning and network opportunities.