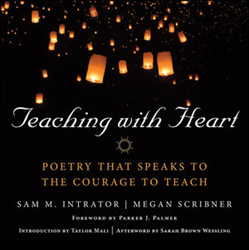 Indianapolis, IN (PRWEB) May 10, 2014
By many measures, teachers have the toughest -- and the most important -- job in America. But how do they maintain their passion, energy and enthusiasm for teaching faced with unrelenting pressure to prepare students to take standardized tests, implement ever changing curriculum and being scapegoated for the problems in our schools and society.
For many, the spark they need to stoke their fire for teaching comes from poetry.
In TEACHING WITH HEART: POETRY THAT SPEAKS TO THE COURAGE TO TEACH, 90 diverse teachers, educators and administrators share the poems that inspire them, along with heartfelt, moving stories about what each poem means to them and how it guides their teaching.
Organized by themes like "Relentless Optimism," "Fiesty" and "Called to Teach," readers will discover that this is more than a collection of poems. TEACHING WITH HEART: POETRY THAT SPEAKS TO THE COURAGE TO TEACH (Wiley; May 2014; Paper format: $19.95) honors the heroic optimism of teachers and their belief that despite the many challenges and obstacles of the teaching life, much is possible. The book brings together the voices of our most treasured poets including Walt Whitman, Langston Hughes, Billy Collins Maya Angelou, and Mary Oliver with the voices of teachers and educators who are inspired and sustained by their words.
Teaching with Heart is the sequel to the bestselling Teaching with Fire: Poetry that Sustains the Courage to Teach (2003), which was #2 on Edudemic's list of 50 Most Popular Books for Teachers.
Teaching with Heart is a book by teachers, for teachers.
Join the conversation on the challenges teachers face and the poetry they turn to at Facebook https://www.facebook.com/teachingwithheart and Twitter https://twitter.com/poetry4teachers.
# # #
About the authors:
Sam M. Intrator is principal of the Smith College Campus School, and professor of education and child study at Smith College. He is the author/editor of seven books, including The Quest for Mastery: Positive Youth Development Through Out of School Programs.
Megan Scribner has three decades of experience as an editor, including co-editing two other poetry anthologies with Intrator: Teaching with Fire and Leading from Within. In 2012, she received the Takoma Park Azalea Award for School Activist and continues to be active in her community.
Teaching with Heart: Poetry that Speaks to the Courage to Teach
By Sam M. Intrator and Megan Scribner
Wiley / 978-1-118-45943-0 / May 2014
For more info, visit http://www.wiley.com
About Wiley:
Founded in 1807, John Wiley & Sons, Inc. has been a valued source of information and understanding for more than 200 years, helping people around the world meet their needs and fulfill their aspirations. Wiley and its acquired companies have published the works of more than 450 Nobel laureates in all categories: Literature, Economics, Physiology or Medicine, Physics, Chemistry, and Peace.
Our core businesses publish scientific, technical, medical, and scholarly journals, encyclopedias, books, and online products and services; professional/trade books, subscription products, training materials, and online applications and Web sites; and educational materials for undergraduate and graduate students and lifelong learners. Wiley's global headquarters are located in Hoboken, New Jersey, with operations in the U.S., Europe, Asia, Canada, and Australia. The Company's Web site can be accessed at http://www.wiley.com. The Company is listed on the New York Stock Exchange under the symbols JWa and JWb.