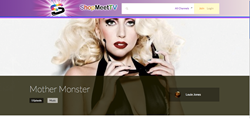 "ShopMeet TV is the marriage of social media and consumerism that goes far beyond liking, pinning and tweeting, to encompass buying, selling, promoting, sharing, and curating products, personalities and content." ShopMeet.tv founder Louie Jones
Los Angeles, CA (PRWEB) May 08, 2014
Home shopping disruption - the convergence of user generated content & commerce. ShopMeet TV is the next generation of home shopping.
A community of curators, content and commerce.
This May, a new media technology transforms the nature and the context of retail. ShopMeet TV is an online social shopping platform that turns the 25 year old home shopping model on its ear. As of today, the home consumer is now the producer, the marketer, the promoter, the profit-maker & the star of the show.
At ShopMeet TV, QVC meets Facebook, Amazon meets YouTube and MTV's Real World meets the Hauler Girls. The brainchild of television producer and serial entrepreneur, Louie Jones, ShopMeet TV is a game-changing platform that leverages existing technology to empower members to engage and interact with consumers, brands and content creators like never before. With ShopMeet TV, members deploy user-generated and user-enhanced Youtube video content to entertain, promote and sell every conceivable product and service. ShopMeet TV is free to join and new members can begin shopping, sharing and selling literally within minutes.
ShopMeet TV gives users the tools to create their own social home shopping shows, episode by episode. Users produce individual "shows" (or a series of episodes), using User Generated Content (e.g., YouTube videos), which reflect or express their interests and the interests of their communities. Episodes are tagged and enhanced with marketing metadata and "buy-it" links to promote/sell products and services on Amazon, relevant to or depicted within the respective video (i.e., episode). With 50+ channels such as "In My Kitchen," "Beauty," "Pets," "Weird & Wonderful," "Music & Film," "Fashion," etc., shoppers can link to and purchase creatively promoted and tagged products.
All shows are shareable across members' social media platforms, delivering endless marketing opportunities. When a ShopMeet TV member's tagged episode results in an online purchase, a percentage (based on a sliding scale) of the sale is deposited in his or her Paypal account, with ShopMeet TV earning a modest transaction fee.
ShopMeet TV members benefit from content and distribution partnerships with online giants YouTube and Amazon, enabling emerging brand advocates, trend-spotters and social shoppers to reinvent e-commerce for the social media generation. As content grows, channels develop and viewership spikes, ShopMeet TV's advertising revenues likewise increase.
"ShopMeet TV is the marriage of social media and consumerism that goes far beyond liking, pinning and tweeting, to encompass buying, selling, promoting, sharing, and curating products, personalities and content. ShopMeet TV is an exciting, interactive way to sell products utilizing the most up-to-date technology to engage and empower audiences as co-creators and partners. It allows members to be as creative as they can: it's as simple as uploading an iPhone video or as advanced as in-studio shoots. The sky really is the limit. ShopMeet TV is a tool for members to re-imagine home shopping by asking the question, "What's Your Pitch?" --ShopMeet TV founder Louie Jones.
ShopMeet TV's proprietary "Commerce Studio" is the technology responsible for this disruptive new platform. In the Commerce Studio, members produce and edit YouTube content, transforming it into personal shopping episodes and series. After loading YouTube content, members can tag it with marketing data and links to products for sale within Amazon's vast marketplace. As the episode is viewed, products and marketing info are displayed in real-time and in sync with the video timeline, allowing viewers to click, learn & purchase immediately.
ShopMeet TV is designed to monetize digital content from every conceivable type of video upload, whether music, film, performance, events, how-to's, haulers, news, archive, reviews, licensed programming or specialty content. With ShopMeet TV, DIYers earn a commission from the tools and materials they use in their how-to videos; Hauler Girls profit from their advice; stylists demonstrate their visual flair while earning fees from the brands they recommend; established and upcoming performers deploy their art to sell music and merchandise at their own Amazon stores or those of others.
Anything that you can associate with your brand, your expertise, your passion, your creativity and your charisma, can now be linked to and sold on ShopMeet TV and shared with everyone you know and everyone they know.
Launching in Beta, ShopMeet TV invites member/producers to co-develop the platform and its possibilities for existing and still to be imagined needs. ShopMeet TV Mobile is undergoing final testing and nearing release.
Louie Jones (Founder of ShopMeet TV) After attending art school at Georgia State University, Louie started in business as a product designer in Laguna Beach, California, designing and distributing a line of bathroom accessories for the home furnishings and gift marketplace. His timeless and distinctive wares sold at Saks Fifth Avenue, Barneys, Neimans, Nordstroms and Lane Crawford, Hong Kong. But it was a random gig with Al Masini, the legendary Star Search producer, that introduced Louie to entertainment and soon landed him in the mail room of the William Morris Agency. With a career that spans design, music management, public relations and television production, producing segments for "Celebrity Rehab With Dr Drew" for VH1 and ABC's "Celebrity Wife Swap," Louie is that rare development executive with an intuitive understanding of branding and an uncanny knack for bringing people together.
ShopMeet TV is represented by the William Morris Endeavor Agency of Beverly Hills.