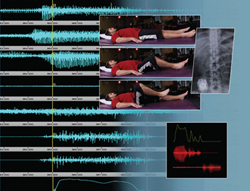 'The thought of someday achieving victory over paralysis is extremely motivating. We're still in the experimental stage and the technology is limited, but this knowledge changes much of what we know about the spinal cord's capabilities...' - Dr. Harkema
Louisville, Kentucky (PRWEB) June 02, 2014
Four men with various stages of lower-extremity paralysis are now able to voluntarily move their hips, legs, and toes thanks to revolutionary research conducted at the University of Louisville by NeuroRecovery Training Institute (NeuroRTI) founder Dr. Susan Harkema, PhD, and co-authors Claudia Angeli, Reggie Edgerton, and Yury Gerasimenko.
Altering spinal cord excitability enables voluntary movements after chronic complete paralysis in humans was published in Brain: A Journal of Neurology on May 5, 2014, marking the first time a human has ever been featured on the publication's cover. The article is based on years of research leading up to 2009, when the team surgically implanted an epidural electronic stimulator next to Rob Summers' lumbar spinal cord. The device, which is paired with an external remote control, may be turned on for up to three hours a day and allows Summers to stand, shake his feet, and wiggle his toes.
In addition to Summers, three men in various stages of paralysis have successfully responded to the implanted electronic stimulator. The National Institute of Health (NIH) and Christopher & Dana Reeve Foundation have provided funding for eight more participants to receive the implant within the next year.
Though the men are only able to use one leg at a time, the study marks the first time stimulation of the human spinal cord has resulted in voluntary activity – an unprecedented breakthrough in paralysis research with profound implications for the 1.275 million Americans who are living with spinal cord injury.
"The thought of someday achieving victory over paralysis is extremely motivating," said Dr. Harkema. "We're still in the experimental stage and the technology is limited, but this knowledge changes much of what we know about the spinal cord's capabilities and what we can do to change the level of recovery."
To learn more about Dr. Harkema and her work at NeuroRTI, please visit http://www.neurorti.com.
About The NeuroRecovery Training Institute
The NeuroRecovery Training Institute (NeuroRTI) is on a mission to create and promote a culture of evidence-based practice (EBP) within the neurologic physical therapy profession. Through transformational education efforts, NeuroRTI is creating a full continuum of neurologic training programs beginning with a large nationally-scaled physical therapy Neurologic Residency, Postprofessional DPT and online Continuing Education (CE) course work that will include various topics in the treatment of spinal cord dysfunction, acquired brain injury, and other neurologic disorders. A course on the new Neuromuscular Recovery Scale, an innovative outcomes tool will be released in February.
###