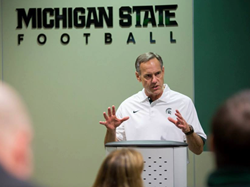 "I think this program is very informative for business leaders and for the coaching staff," said Coach Dantonio.
East Lansing, Mich. (PRWEB) May 08, 2014
Michigan State University Eli Broad College of Business Prof. John Hollenbeck likes to tell the story about a man struggling with the performance of his team, and who planned to intervene and address individual and group conflicts personally. Ultimately, the man decided that the best action in this case was to do nothing, and to let the team members find a way to resolve their own conflicts.
The man in this story was MSU Head Basketball Coach Tom Izzo, and the conflict was his team's performance during the NCAA playoffs in 2000. "The leaders rallied the team and resolved their own problems without Coach Izzo's intervention," Prof. Hollenbeck said. "They went on to win the National Championship that year."
Management and coaching provide a surprising number of similarities, and lessons learned on the playing field (or basketball court) can have direct implications in the boardroom. MSU's Eli Broad College of Business and Department of Intercollegiate Athletics will examine those similarities in Building Winning Teams: A Quest for Excellence, June 3-5, on the MSU campus.
"We have a heavy emphasis on teams at the Eli Broad College," explained Dave Frayer, director of the Executive Development Programs. "Many of our classes are organized around building and supporting the team structures within businesses and nurturing their leaders. It's all about operating efficiently and getting the best possible performance out of each member of the team. This approach applies equally to business and athletics."
"When you are talking about teams, you are talking about people with different needs, different wants, different desires. You need to pull it all together, to get a culture that can work for the mission and not the individuals," said Cathy George, MSU Women's Volleyball head coach. "Our team is so similar to organizations and businesses that are trying to run efficiently."
In addition to Coach Izzo and Coach George, MSU coaches participating in the program include Mark Dantonio, football; Suzy Merchant, women's basketball; Tom Anastos, hockey; Jake Boss, baseball; and Stacy Slobodnik-Stoll, women's golf.
Building Winning Teams: A Quest for Excellence is designed to help managers build a strong team structure and culture, with the ability to make effective strategic and tactical decisions. It will help them build skills to select and recruit top talent, manage conflict and manage change and team development. "We'll help business leaders explore their approaches for working efficiently and building a productive culture for their organizations," said Prof. Hollenbeck.
MSU Management Prof. Don Conlon will lead a discussion of negotiation and conflict during the program. "Conflict is pervasive in both business and sports, and conflict management has beneficial applications to both areas. Key to team leadership is managing conflicts in relationships, tasks / responsibilities and process implementation."
"I think this program is very informative for business leaders and for the coaching staff," said Coach Dantonio. "I think anytime you have a chance to talk about your coaching philosophy, or listen to a coach talk about her or his coaching philosophy, it's beneficial for you."
To learn more and register for this innovative June 3-5 program at MSU, visit Building Winning Teams at http://bit.ly/Qtfmwf. And to take a look at the highlights of the 2013 program, visit http://bit.ly/1eG17ds. #MSUwinningteams
About the Eli Broad College of Business
Michigan State University's Eli Broad College of Business teaches students to reach across business functions, build relationships and solve global business problems to make business happen. The college, which is home to more than 5,800 undergraduate and 800 graduate students, offers seven undergraduate majors, two MBA programs, seven professional master's degrees and eight doctoral degrees, as well as a variety of executive education programs. Students can choose to enhance their education through an extensive selection of study abroad trips and by engaging in real-world projects in research centers and experiential labs.
About Michigan State University
Michigan State University has been working to advance the common good in uncommon ways for more than 150 years. One of the top research universities in the world, MSU focuses its vast resources on creating solutions to some of the world's most pressing challenges, while providing life-changing opportunities to a diverse and inclusive academic community through more than 200 programs of study in 17 degree-granting colleges.