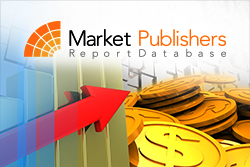 London, UK (PRWEB) May 08, 2014
TD The Market Publishers, Ltd. is looking for market research organisations, research groups, consulting companies, independent market experts and analysts and other researchers to build a strong and mutually beneficial partnership in the field of market research distribution.
Being a leading online store specialising in selling market research studies, we currently have more than 1.5 million publications on-board and the number of reports is constantly growing. The publications we offer to our extensive clientele include, but are not limited to strategic reports, databases, periodicals, books, to name a few.
We partner with renowned and reputed professionals from different countries, such as the USA, the UK, Finland, China, India, Russia, South Africa, the UAE, etc. At present, we have over 350 partners.
Why be interested in partnering with us?

Our report store is both quick and easy way for customers to find and purchase research reports.
We have a strong history of promoting and selling market research publications.
We work on a revenue sharing model, so no prepayment is required.
We offer fast and secure payment.
We have a huge number of clients across different industries, markets and countries.
Join our Partner Program "Publishers" and enjoy services we offer:
Effective advertising strategies (we make use of Internet marketing tools as well as traditional advertising techniques)
Affiliate marketing (our affiliate network unities several hundred websites with several million daily page views in total)
Contextually Targeted Advertising System
Homepage postings (news and press releases related to your company or your products are uploaded to our homepage)
Multilingual reports presentation (we provide professional translation of your report contents and annotations into other languages)
Independent information posting (any reviews, news articles and press releases developed by your team can be uploaded to our website)
Marketing on a local level (we have local agents who represent our company in domestic markets and work directly with potential customers)
Special notification system (it informs our clients when new and updated reports in selected areas become available in our store)
Etc.
Make 3 easy steps to start partnering with us:
Open a free account at our website;
Sign a partner agreement with TD The Market Publishers Ltd (no cost is involved);
Let us contribute to your success!
Please, follow the link for more details http://marketpublishers.com/members/register_publisher.html