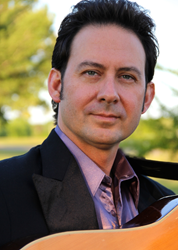 "We're excited to showcase the talented performer we know Kevin to be. This will be a terrific evening of entertainment and a great opportunity to support Mississippi film," - Director, Melanie Addington
Oxford, Mississippi (PRWEB) May 09, 2014
Kevin Curtis' Harrowing Experience Is Subject of Film
Tribute Performer Returns to the Stage to Headline Benefit Funding the Documentary
"The Kevin Curtis: F.B.I.O.U. A Ricin Roll Concert" Takes the Stage on May 15 at The Lyric Oxford in Oxford, MS
You probably recall the headlines…Just days after the Boston Marathon bombing, a "crazy Elvis impersonator," Kevin Curtis, was arrested and charged by the U.S. government for sending ricin-laced letters to President Obama. The only problem was he was innocent, the victim of a damaging revenge attack by a long-time arch enemy and rival. Curtis was released from custody six days later, but not before his life had been completely decimated. (Attribution for release: CBS News,April 23, 2013, http://www.cbsnews.com/news/paul-kevin-curtis-update-ricin-suspect-released-from-jail-official-says )
The fallout from the arrest was shattering. It left Curtis facing legal bills, plus emotional distress from his arrest and incarceration. His career as a "tribute artist" for such stars as Johnny Cash, Prince and Elvis, was annihilated, and the press made public his struggle with mental health. The violation of his rights and his attempts to legally redress the situation were devastating. Yet today, Curtis' recovery of his life has begun, but there is a long way to go…(attribution for Unlivable home and damages (Attribtion: Huffington Post/Associated Press April 29, 2013, http://www.huffingtonpost.com/2013/04/29/paul-kevin-curtis-home_n_3182074.html)
And so on May 15 in Oxford MS, Curtis will be the star of the fundraising concert: The Kevin Curtis : F.B.I.O.U: A Ricin Roll Concert—featuring his first comeback appearance. A free event, with a suggested donation of just $5, the concert will be hosted by production company Velvet Ditch Productions, raising the final funds to complete its documentary entitled "I Didn't Do It," based on Curtis' harrowing experience.
The concert has given Curtis the re-start on his performance career. "I can't describe how blessed I feel right now after such an extremely difficult year. I can't wait to walk out on that stage again and give you a concert you will never forget," Curtis said.
The concert will take place at the famed Lyric Oxford in Oxford, Mississippi, just one block away from the Federally Approved Detention Center, where Curtis was held. Doors open at 7:30 p.m. and the concert begins at 8 p.m. and lasts until 10 p.m. Curtis will perform both original music and tributes to the many artists in his repertoire. The documentary crew of "I Didn't Do It" will film the concert as part of the storyline of the film.
"We're excited to showcase the talented performer we know Kevin to be. We think this will be a terrific evening of entertainment and a great opportunity for our friends and the community to support Mississippi film," Director Melanie Addington said.
Anyone who donates $50 or more receives access to the VIP area, upstairs, courtesy of Square Pizza, Old Venice and more. A cash bar will be available to support the Lyric Oxford, which has donated the venue. The concert is being staged simultaneously with an IndieGoGo crowdfunding campaign to fund production for "I Didn't Do It." (http://www.ididntdoitmovie.com.)
"'I Didn't Do It' is not just a compelling story filled with quirky, colorful characters where truth is stranger than fiction; 'I Didn't Do It' is a cautionary tale for all Americans. When you learn what happened to Kevin Curtis behind the scenes, you'll realize what happened to Kevin Curtis could happen to any of us," said producer Hudson Hickman, a Mississippi native and Hollywood resident.
To RSVP for The Kevin Curtis : F.B.I.O.U. A Ricin Roll Concert, visit Facebook at https://www.facebook.com/events/639305366158961/?ref_dashboard_filter=upcoming.
##
Or for more information, please contact director, Melanie Addington (melanie.addington(at)gmail(dot)com) or Producer, Hudson Hickman (hudsonhickman(at)gmail(dot)com).
Visit Facebook at http://www.facebook.com/ididntdoitmovie and Twitter at http://www.twitter.com/ididntdoitmovie to follow progress on the film.
Also visit the Indiegogo campaign at http://www.indiegogo.com/projects/i-didn-t-do-it-a-documentary/x/5601