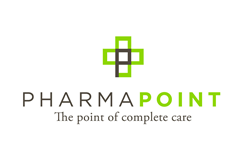 Birmingham, Ala. (PRWEB) May 08, 2014
May 8, 2014 – PharmaPoint is pleased to announce that Paul Albano, P.D., Senior Vice President of Pharmacy Operations, and Blake Lancaster, Senior Vice President and General Counsel, were honored today at the Birmingham Business Journal's 2nd Annual C-Suite Awards luncheon held at the Sheraton Birmingham Hotel.
The C-Suite Awards honor the top executives in the Birmingham business community whose leadership has made a profound impact on their company. Albano was named in the top 5 under the Operations category, and Lancaster was in the top 4 under the General Counsel category.
"We are extremely proud that both Paul and Blake are being recognized for their outstanding leadership roles," said Mike Plaia, PharmaPoint CEO. "Their contributions and commitment to the success of our organization are invaluable."
Paul Albano is a proven management and healthcare professional whose career covers more than three decades of experience in both start-up and operational management situations. In each PharmaPoint pharmacy across the United States, he is responsible for the layout and workflow of the pharmacy area, hiring and managing the pharmacy staff members, and the procedures and processes followed within those pharmacies. As a registered pharmacist, Paul is also experienced in starting and managing new businesses, improving business operations and processes, and designing and implementing restructuring processes on a nationwide level.
Blake Lancaster has showcased his entrepreneurial spirit throughout his professional career. His work includes special emphasis on compliance with federal laws (Stark, Federal Anti-Kickback), state laws (mini-stark laws, state anti-kickback) and state pharmacy and medical regulations in order to ensure compliance. In addition to compliance and legal issues, Blake is responsible for and manages the PharmaPoint pharmacy implementation teams, including managed care/3rd party relations, as well as overseeing the data analytics and business intelligence departments.
"Both Paul and Blake display a strong work ethic and commitment to excellence in their professional and private lives," said Elizabeth Shelton, PharmaPoint's Director of Communications. "To be recognized in such an elite group of peers is a great honor."
About PharmaPoint
PharmaPoint is an innovative pharmacy management company, providing best-of-class solutions for hospitals, health systems and physician groups. PharmaPoint is focused on completing the care continuum, thereby improving patient health and satisfaction and reducing healthcare costs. Recognized as one of the most innovative, inspiring and fastest growing private companies for 2013 by Inc. Magazine, PharmaPoint is currently managing pharmacies across the United States. PharmaPoint is headquartered in Birmingham, Alabama. For more information about our company, you can visit http://www.pharmapointrx.com.
####