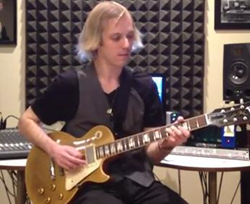 (PRWEB) May 09, 2014
A ninth chord is a chord consisting of a triad plus a note forming an interval of a seventh above the chord's root and an interval of a ninth replacing the root note.
"Today I am going to show you a ninth chord where I am going to omit the root note," says Darville, "that means that we are going to take away the bass note." In this example of a 9th chord Jacques demonstrates how to construct the chord in the key of A as follows; first Jacques plays a A7 chord by baring his first finger across all 6 strings at the 5th fret and places his 2nd finger on the 6th fret of the 3rd string, 3rd finger on the 7th fret of the 5th string and 4th finger on the 8th fret of the 2nd string, "this is for reference," says Darville. The 9th chord voicing consists of 4th fret of the 5th string with first finger, 5th fret of the 4th string with 3rd finger, 4th fret of the 3rd string with 2nd finger and 5th fret of the 2nd string with 4th finger. Jacques says, "this is a moveable shape and can be moved to play the four and five chord in the progression. Guitar tabs are available for this easy beginner blues guitar lesson at BluesGuitar.com.
Jacques Darville
Jacques Darville is Danish born American who specializes in both acoustic and electric blues. Jacques has taught guitar and music for over 16 years. He is a graduate of Oakland University in Detroit Michigan where he earned his B.A. in music/performing arts. Jacques currently resides in Copenhagen Denmark where he teaches guitar to students of all ages, and actively plays with his band, Darville Duo. In addition to having a great deal of recording experience, Jacques has also toured in the USA, Denmark, Holland, Austria and the Philippines, both as a solo artist and with different bands.
About BluesGuitar.com
BluesGuitar.com is the leader in modern blues guitar instruction. It's packed with resources including articles, video lessons, and the best videos in the business for the beginner to the advanced guitar student taught by the best instructors out there.