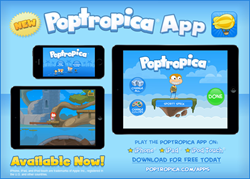 We're so excited that our great, interactive stories are finally available for kids to experience in the palm of their hands.
Boston, MA (PRWEB) May 08, 2014
Today, the popular Poptropica App launches for iPhone® and iPod touch®. Available for free download on the App Store℠, the app brings Poptropica's unparalleled storytelling now to iPad®, iPhone®, and iPod touch®, giving kids more safe places to play and experience the stories brought to life on Poptropica.
"This is a big day for us at Poptropica," said Jeff Kinney, Poptropica creator and author of the bestselling "Diary of a Wimpy Kid" series. "We're so excited that our great, interactive stories are finally available for kids to experience in the palm of their hands."
Now Poptropicans can play four of Poptropica's adventures on an iPad, iPhone, or iPod touch, including the brand new Mission Atlantis Island, which features Episode 1: Into the Deep; Survival Island, Episode 1: Crash Landing; "24 Carrot Island" and "Time Tangled Island." More brand-new Islands will be added to the Poptropica App in the near future. Launched in April, "Mission Atlantis" is an episodic quest. On their tablet, mobile device, or the Web, players will discover that it's a different world under the sea, and that an ancient secret at the bottom of the ocean is beyond their wildest dreams. Also an episodic adventure, "Survival" challenges players to overcome challenges to survive after the blimp they were traveling in has crash-landed in the woods.
"Poptropica fans were so excited when we launched our free app for iPad that we immediately started to get requests to play the Poptropica experience on iPhone," said Jess M. Brallier, publisher of Poptropica. "Never fear, we haven't forgotten Poptropica players with other devices – an app for Android™ tablets and phones is right around the corner."
Kids will enjoy opening the Poptropica App for iPhone, creating a new Poptropican, and exploring a welcoming scene where they can collect gold shards and first experience Poptropica on a touch screen. Up to three Poptropican characters can be customized to play. More information on the new Poptropica App can be found at Poptropica.com/apps.
Hundreds of millions of kids have visited Poptropica since its launch six and a half years ago and the number grows every day. Poptropica players come from more than 200 different countries and territories and have their web browsers set to more than 100 different languages. Kids can stay up to date on news about upcoming new Islands and other exciting developments in the world of Poptropica on the official Poptropica blog.
Apple, the Apple logo, iPad, iPhone, and iPod touch are trademarks of Apple Inc., registered in the U.S. and other countries. App Store is a service mark of Apple Inc.
Android is a trademark of Google Inc.
About Poptropica (http://www.poptropica.com)
Poptropica is a virtual world in which kids explore and play in complete safety. Every month, millions of kids from around the world are entertained and informed by Poptropica's engaging quests, stories and games.
Kids create a "Poptropican" character to travel the many Islands of Poptropica and use gaming literacy to enjoy a narrative that is often rooted in factual history. Problem-solving skills are honed as kids discover and solve mysteries unique to each Island.
There are always new areas to explore in this ever-expanding world where kids can collect objects, read digital books and comics, watch movies and compete in head-to-head competition. Parents can always trust that their children are playing – and learning – in a safe online and mobile environment.
Poptropica is published by Pearson, the world's leading learning company.