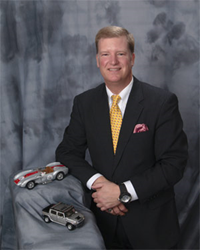 'The investor makes the loan and earns the interest,' said David Braeger, CEO of Braeger Auto Finance Group.
Milwaukee, WI (PRWEB) May 09, 2014
Timing is right for Braeger Auto Finance Group, says internationally renowned founder of Crowdfund Capital Advisors.
Braeger Auto Finance Group identified a problem and set out to solve it. In 2013, despite many signs of a recovering economy, the growth of auto dealerships nationwide was limited due to the reluctance of banks to fully fund them. Most affected were auto buyers who did not qualify for traditional loans and were seeking non-prime financing through auto dealership finance companies. To this group of buyers, an auto means the difference between a working mother or father's ability to get to a job, to earn a living to raise a family.
David Braeger, CEO of Braeger Auto Finance Group decided to put to use his extensive background in the financial industry, and knowledge gained from the 90-year-old Midwest-based auto dealership started by his grandfather. Braeger's business is not related to the Braeger Automotive Group. The auto related business model invites individual investors to choose the term of their investment and earn interest. "The investor makes the loan and earns the interest," said Braeger. On average, investors provide their capital for four years and receive quarterly payments amounting to 8% annually. Additional term options are available.
The model is working with $6 million raised in one year and Braeger expects to raise $10 million or more by the end of the year. This would be faster than many crowdsourcing sites in real estate and other areas. Braeger's crowdsourcing site, http://www.VroomBank.com is starting to receive significant investment interest from hedge funds from an investment standpoint and Braeger is considering discussing direct investment in http://www.VroomBank.com with institutional investors.
Recently, crowdsourcing sites have been receiving multi-million dollar investments and Braeger's crowdsourcing site seems to be raising investment funds at a faster pace. Investors can go to http://www.Vroombank.com, contact the company at BraegerFinancial.com directly, or make an investment via http://www.Fundable.com.
Sherwood Neiss co-authored the Crowdfunding Framework used in the JOBS Act signed into law by President Barack Obama in April 2012. An important US Securities and Exchange Commission rule change eliminates prohibition against general solicitations and advertising for certain securities, paving the way for Braeger Auto Finance Group to reach out to individual investors interested in the auto finance industry.
Neiss also co-founded the globally renowned Crowdfund Capital Advisors LLC, which works with professional investors, governments, development organizations, corporations, and more. Neiss applauds the timing of the Braeger business model. "It's incredibly innovative," said Neiss. "If he (Braeger) can get it right, he will have more business than he can handle because there will be auto dealers coming to him for solutions who wouldn't find them elsewhere." Neiss added that he expects to see more companies like Braeger's filling the void left by the recent financial crisis.
Auto dealers are benefitting from an injection of capital from Braeger's company. Braeger's auto finance companies, including the parent company at http://www.BraegerFinancial.com and http://www.VroomBank.com are a success story that is now in "high gear."
Braeger Auto Finance Group is a privately-owned, Milwaukee-based automobile financing company. Our mission is to provide financial services of superior quality to independent automobile dealers, and our qualified investment partners by exceeding expectations through focusing on solid fundamentals to achieve superior investment returns. http://www.braegerfinancial.com and http://www.vroombank.com.