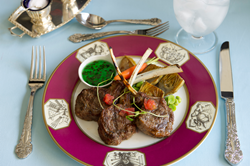 Lancaster, PA (PRWEB) May 08, 2014
Independent Publisher announced that Dining at the White House: From the President's Table to Yours is the gold medal recipient of the 2014 "IPPY" Award in the Celebrity Autobiography/Memoir category. This year's contest drew over 5,500 entries from authors and publishers in all 50 U.S. states, nine Canadian provinces, and 32 countries overseas.
The annual awards honor the year's best independently published books, the "IPPY" Awards recognize excellence in a broad range of subjects and reward authors and publishers who "take chances and break new ground." Independent publishers, along with independent booksellers, have long held an important role in the world of books, offering an alternative to "the big five" conglomerated media publishers.
Dining at the White House has also been named as a finalist for three other awards this year:

ForeWord Reviews Book of the Year Award\Cookbook
Independent Book Publisher's Association (IBPA) Benjamin Franklin\Cookbook
Independent Book Publisher's Association (IBPA) Benjamin Franklin\Autobiography
John Moeller has served food fit for a king—and to actual royalty—more times than he can remember. As a Chef in the White House Residence, he cooked and served the food to first families and their guests at the White House from September 1995 to 2005—three Presidential administrations.
Chef Moeller's new book Dining at the White House: From the President's Table to Yours captures the best of his experiences and memories along with over 100 of the exquisite recipes he created and served to the nation's Presidents, their families and guests.
In addition to sharing the culinary delights of the Presidents in this exquisitely done 400 page hardcover book, he also pulls the curtain back and dishes out some of the most memorable likes and dislikes of our nation's top leaders and their families. President George W. Bush for example, loved Tex-Mex, and he and President Bill Clinton both had a real penchant for chicken potpie.
The book is practical, inspiring, and elegant.
Mike Lovell, Publisher-LifeReloaded Specialty Publishing, said, "This is a great story. Chef Moeller served as a chef to three First Families over thirteen years. This book captures an unique insider's view of living and working inside the White House."
Chef John Moeller is a member of an elite corps of chefs who have served in the White House preparing exquisitely plated cuisine for Presidents, First Families, and their guests, including visiting Heads of State. Chef to three First Families—President H.W. Bush, President William Jefferson Clinton, and President George W. Bush, Chef Moeller joined the White House kitchen in 1992 as sous chef to Pierre Chambrin and later Walter Scheib, eventually acting as White House Chef in 2005. Over the course of his career in the White House, he focused on creating unique and one-of-a-kind dishes that relied on fresh and flavorful ingredients.
LifeReloaded Specialty Publishing is a national award-winning publisher of print and e-books that specializes in working collaboratively with authors across a range of genres to develop and publish their books.
Visit: Dining at the White House
High resolution photographs of the author, book and recipes, and interviews are all available upon request. Recipes may be excerpted in whole or part with link and attribution please. Special feature story articles, interviews, and in-studio cooking demonstration inquiries welcomed and appreciated.