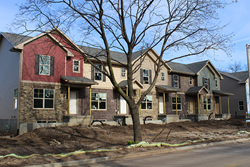 These new housing structures will contribute not only to the revitalization of the neighborhood, but establish a quality to be matched by future developments in the area.
Cedar Rapids, IA (PRWEB) May 12, 2014
The series of buildings which consist of a 4-plex structure available as rental units, a 5-plex structure consisting of condominium homes for purchase and two free-standing homes also for purchase, compile this new and vibrant look all within the 1300 block of Ellis Boulevard.
This area had been completely devastated and virtually abandoned since the 2008 floods. It has taken all of the 6 years from that disastrous event to gain the necessary funding as well as community support to endorse the campaign and initiate the rebuild this important area.
With its proximity to downtown, the opportunity for further economic growth is provided not only by having new residents living and raising their families here, but also by the contribution to the Cedar Rapids community as a whole in the form of new property taxes, non-existent for a minimum of the last 6 years. The economic impact alone will be immediate.
The development is modern and attractive while strongly paying attention to the comfortable atmosphere of the surrounding community, making it very family friendly. These buildings also 'set the scene' for further development of quality construction and style, emphasizing a solid demographic to revitalize this once active community within the immediate downtown area.
The first moving trucks will begin to arrive in June 2014. Shortly thereafter the neighborhood will show evidence of all sights, sounds and enjoyment of a vibrant and growing community, breathing new life into this area too long left quiet and empty. Compass Commercial Services is proud to provide this cornerstone of growth as Cedar Rapids continues to evolve stronger and more established, moving aggressively towards a vibrant future.
About Compass Commercial Services
Compass Commercial Services is a full-service General Contracting and Construction Management firm in the Cedar Rapids area specializing in a wide range of commercial construction projects including interior and exterior renovations, remodeling, building additions and the complete construction of new buildings. As a TRUE design-build firm, Compass Commercial Services is poised to complete projects from the ground up. From the initial design through the entire building process, customers have the advantage of working directly with one company, and a team that is structured to deliver final projects on time, and on budget.