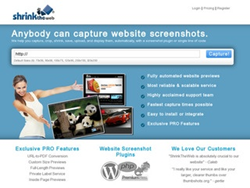 The ShrinkTheWeb Drupal module was designed to allow users to create, update, and change their screenshots with very little manual effort.
Atlanta, GA (PRWEB) May 13, 2014
As the popularity of website building solutions increase, so does the need for quality modules and plugins that make developing and maintaining a website easier. Automated web page screenshot provider ShrinkTheWeb, also a user of the Drupal framework for its own website, certified an existing Drupal module to fill the need for an easy way to capture and display website screenshots within Drupal pages.
After reaching out to George Baev, the original developer of the "ShrinkTheWeb Thumbnails" module, ShrinkTheWeb took an active role in enhancing and deploying the plugin for mainstream use. The collaboration between ShrinkTheWeb and Mr. Baev led to a reliable and flexible screenshot solution for Drupal. The intuitive admin panel requires very few steps to set up and automates the maintenance of the screenshot library by setting how often a screenshot should be updated with the most recent one available on the ShrinkTheWeb system.
Automated website screenshots are a great way to dress up the content on just about any website. When used in conjunction with web links, web page screenshots can improve site navigation and user interface experience. The ShrinkTheWeb Drupal module was designed to allow users to create, update, and change their screenshots with very little manual effort. The module can be used to modify the requested screenshots with some of ShrinkTheWeb's unique PRO Features that allow for the customization of the screenshots, size, quality, and resolution which gives the user global control of their screenshot library.
As a part of the ShrinkTheWeb "Certified Integrations Program," users of the module can take advantage of the limited support provided by the ShrinkTheWeb support team in conjunction with any support offered by volunteer co-maintainers. As an actively maintained Drupal module, users can expect an up-to-date, fully functional product that meets the standards set by the ShrinkTheWeb development team. Users chime in with feedback and ShrinkTheWeb, in coordination with co-maintainers, respond as quickly as reasonably possible to bug reports and enhancement requests.
It is a well known fact that drupal is distributed under the GNU General Public License (GNU GPL or GPL,) making it free for users and developers. In support of making more of the internet free, ShrinkTheWeb made its module free to all users and offers a free plan that fits the usage needs of most of its customers. Now, Drupal users are able to join in the screenshot revolution by incorporating web page previews in their site designs.
About ShrinkTheWeb™
ShrinkTheWeb offers a service to fully automate the capture and delivery of web page screenshots. The company was founded in 2009 and has been a driving force in the emerging automated website screenshot marketplace. ShrinkTheWeb has always held fast to the idea that website screenshots will eventually become a staple of the Internet. They will become a commonplace replacement or enhancement to simply showing a link. They are the natural evolution to linking and referencing on the web.
For more information, please visit http://learn.shrinktheweb.com.