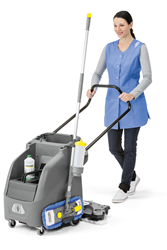 The B 60/10 C is designed to fill the gap between a mop and bucket and a scrubber drier.
Camas, Washington (PRWEB) May 09, 2014
Kärcher has won the Innovation Award at ISSA/INTERCLEAN 2014 in Amsterdam, the trade show for cleaning professionals, for its Mopvac B 60/10 C: out of a total of 66 entries, the international jury chose the unique machine, which is the first of an entirely new product category created by Kärcher, as the overall winner. The committee highlighted the Mopvac's simple and cost-efficient system operation.
The B 60/10 C is designed to fill the gap between a mop and bucket and a scrubber drier. The convenience of manual cleaning machines is raised to a hygienic, safe and ergonomic level. The new Mopvac looks and works like a compact scrubber drier – without the need for a power source. Easy to use, the machine only needs to be pushed forward, whereby cleaning solution from the fresh water tank is applied to the mop with cleaning pad. An internal mechanical pump driven by an additional wheel under the machine sucks up the dirty water in a single pass. The dirty water is picked up by suction lips on the mop and collected in a separate container.
This machine is more hygienic than a mop as it only uses clean water. An additional benefit: floors are immediately dry after cleaning – reducing the risk of slipping and floors stay cleaner longer.
With a working width of 24 inches, this new machine can clean five times faster than a mop and bucket. This saves time and money. The machine is designed for ergonomic use, eliminating the need for manual wiping and wringing out.
Kärcher, the family owned enterprise, is the world's leading provider of cleaning technology. It employs over 10,000 people in 60 countries and 100 companies. More than 50,000 service centers in all countries ensure continuous and comprehensive supplies to customers all over the world. In 2013, Kärcher reached the highest sales with 2.05 billion euros and 12.5 million units sold, the highest number of quantities in its history.