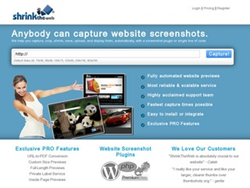 to provide our clients with the most secure yet flexible service possible
Atlanta, GA (PRWEB) May 20, 2014
ShrinkTheWeb set the industry standard on securing user API requests of website screenshots. By using access credentials in its requests, ShrinkTheWeb is able to prevent account abuse and resource waste. Since adding this feature, there have been several modifications made to their system to increase security.
Throughout 2012 and 2013, ShrinkTheWeb added several new features to the original Lock to Account feature. These include the Distributed API Security, IP override, and Requests over SSL. This should come as great news to distributed application developers and secure sites looking to use the service. Each feature offers a different level of security which allows users to develop applications that may have different security requirements.
"We believe that being the best automated website screenshot provider requires us also to provide our clients with the most secure yet flexible service possible. This is why we worked with some of our largest clients to develop and test security methods to prevent unauthorized access to the service", said Duane Roumel of Customer Satisfaction.
ShrinkTheWeb's automated screenshot services is used by thousands of web designers and distributed application developers to generate web page screenshots for their projects. Capable of delivering more than 50 million screenshots per month, the service is prepared to increase capture capability on demand. With its customer base of free and paid accounts, ShrinkTheWeb handles thousands of screenshots every minute. With so many requests being made, having a security system to keep out unauthorized requests is a necessity.
About ShrinkTheWeb™
ShrinkTheWeb offers a service to fully automate the capture and delivery of web page screenshots. The company was founded in 2009 and has been a driving force in the emerging automated website screenshot marketplace. ShrinkTheWeb has always held fast to the idea that website screenshots will eventually become a staple of the Internet. They will become a commonplace replacement or enhancement to simply showing a link. They are the natural evolution to linking and referencing on the web.
For more information, please visit http://learn.shrinktheweb.com.