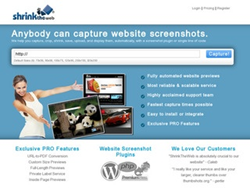 This photo-laden feature can enhance the professional look of a website within minutes
Atlanta, GA (PRWEB) May 27, 2014
Since 2006, the open-source CMS named Joomla has been downloaded more than 30 million times and hosts more than 7.5 million visitors on all of the websites that rely on the software as a one-click installation solution for web creation and design. Those statistics represent nearly 3% of the entire "world wide web" that runs on Joomla, including prestigious institutions like The Guggenheim Museum, Stanford School of Medicine, and Harvard University – as well as large commercial outfits such as Citibank and carmaker Peugeot.
A new addition to Joomla's powerful suite of extensions is the "ShrinkTheWeb Certified" JV-ShrinkTheWeb plugin, which provides systematic extended functionality that enables users to present their website visitors with visually attractive preview images of internal and external sites via a list of URLs entered and defined optional parameters.
This photo-laden feature can enhance the professional look of a website within minutes, and serve as a great addition to affiliate income-based sites along with every other online area that could benefit from visual representation – from web directories to long lists of hyperlinks that need navigational imagery.
The JV-ShrinkTheWeb plugin makes use of the ShrinkTheWeb.com technological coding capability to provide free website thumbnail previews, which can be fetched from servers and displayed on Joomla-powered websites without the admin ever needing to visit the external site and manually extract the screenshot using the standard, beleaguering multistep process.
Instead, Joomla users seeking to use the operation can now insert "stwpreview" tags in their content via the directory tree "modules/components/plugins/templates," and the JV-ShrinkTheWeb plugin will add photographic screenshots of the desired web pages to the articles. Visiting the "article manager/custom HTML" module, for instance, and adding the "stwpreview" tag in a specific location will allow the screenshot image to appear in that location.
Webmasters can also select the "URL Preview" button in the editor, enter a website's URL and additional optional selections in order to have the "stwpreview" tag automatically generated and placed within the article at a selected location.
Extra features of the JV-ShrinkTheWeb plugin include the choice to make the thumbnail image clickable to the website in question, the ability to select the size of the image, and to capture screengrab photos of homepages as well as internal pages.
This new certified plugin offers a multitude of options to Joomla users seeking to dress up their websites beyond words.
About ShrinkTheWeb™
ShrinkTheWeb offers a service to fully automate the capture and delivery of web page screenshots. The company was founded in 2009 and has been a driving force in the emerging automated website screenshot marketplace.
ShrinkTheWeb has always held fast to the idea that website screenshots will eventually become a staple of the Internet. They will become a commonplace replacement or enhancement to simply showing a link. They are the natural evolution to linking and referencing on the web.
For more information, please visit http://learn.shrinktheweb.com.