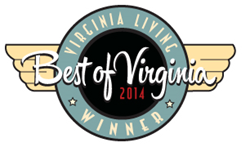 Gloucester, Va. (PRWEB) May 08, 2014
Ware Academy is pleased to announce that it was named among the top independent schools in Virginia.
Earlier this week, Virginia Living Magazine released its third annual Best of Virginia issue.
More than 32,000 people voted in the Best of Virginia survey in January, culminating in 1,345 winners in nearly 100 different categories divided among the four regions of the state – Eastern, Central, Northern, Southwest and Shenandoah Valley.
Ware Academy placed among the top three in the Eastern Region.
"Ware Academy is a special place," said Thomas L. Thomas, III, Ware Academy's Head of School. "We are proud of our teachers and students. The children delight in hands-on and applied learning. When our graduates matriculate to secondary school we see them blossom into incredibly confident, gifted young adults."
Thomas, along with fellow Ware Academy faculty and staff frequently say, "nothing is more important than a strong foundation."
"To earn this award from Virginia Living," Thomas said, "is a true testament to that belief we hold so true."
Categories readers voted in ranged from hospitals and independent schools to fine dining restaurants and bed and breakfasts.
"It has been fun traveling the state with you these three years and learning about all of your favorite restaurants and resorts, arts and music events, clothing and home décor shops, brunch and coffee shops, financial planners, pediatricians, wildlife trails and parks and so much more," wrote Virginia Living editor, Erin Parkhurst. "I love knowing that when I want to visit a new corner of our state, I'll have just the right tip for where to go, thanks to Best of Virginia, thanks to you."
Ware Academy's neighbors in Gloucester also earned top billing in the survey.
"To be voted among the best, and to see other businesses in our community highlighted for their good works, is a testament to the Middle Peninsula and Northern Neck region of Virginia being such a wonderful place to live, work and play," said Ginger James, Ware Academy's Director of Admissions and Special Events.
Earning first place awards in their categories from Gloucester were York River Charters for Best Fishing Facility, Short Lane Ice Cream for Best Local Ice Cream, Bangkok Noi for Best Sushi Cuisine, Sandy Creek Dog Resort for Best Pet Boarding, and Village Cleaners for Best Local Dry Cleaner.
ABOUT WARE ACADEMY:
Located one mile from Main Street in Gloucester's historic Courthouse district on a 19-acre campus, Ware Academy is a co-ed, independent day school for students in Pre-Kindergarten 3 through eighth grade. Ware Academy empowers each student to achieve academic excellence, emphasizing the development of mind, body and character.
The primary objectives are to educate the whole child to his fullest potential and for students to acquire a respect and a desire for learning in order to develop into independent, life long learners in preparation for productive and fulfilled lives.
Founded in 1949, Ware Academy is a non-profit, non-denominational, non-sectarian school promoting ethnic and racial diversity. Ware Academy selects students on the basis of academic potential and developmental readiness without regard to race, color, creed, or ethnic origin.
Ware Academy is accredited by the Virginia Association of Independent Schools, the National Association of Independent Schools, and the Education Records Bureau and the Secondary School Admissions Test Board. Ware Academy is also a member of the National Middle School Association, the National Junior Honor Society and the Association of Supervision in Curriculum Development.
Keep in touch with Ware Academy online at http://www.wareacademy.org, on Facebook at /WareAcademy and on Twitter @WareAcademy1.