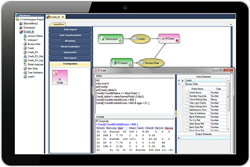 The new Angoss R integration allows users to write R programs directly within KnowledgeSEEKER via the R workflow node.
Toronto, Canada (PRWEB) May 12, 2014
Angoss Software Corporation (Angoss) will launch its new language of R workflow node for KnowledgeSEEKER® 9.0 at Predictive Analytics World (PAW) Toronto May 12-15. This integration couples the power and flexibility of R, the world's most widely used statistics programming language, with the user friendly, advanced visualization of Angoss' market-leading Decision Trees and Strategy Trees.
The new Angoss R integration allows users to write R programs directly within KnowledgeSEEKER via the R workflow node, eliminating the need to move between multiple analytics tools.
"With the new R integration I get the best of both worlds – R's incredible breadth of data manipulation, reporting and statistical tools combined with KnowledgeSEEKER's speed, automation, segment visualizations and industry leading Decision and Strategy Trees," commented Dr. Shidan Murphy, Angoss Data Scientist and R Analyst.
The new R workflow node will allow users to open their R environment from within KnowledgeSEEKER providing them the freedom to quickly and easily start writing R code in KnowledgeSEEKER including versatile R based data manipulation functions and diverse data mining and statistical algorithms.
The resulting R datasets can then be explored using Angoss' powerful, easy to use advanced visualization tools including a broad range of reports, charts, graphs, and views which allow users to quickly gain an understanding of their data.
Users are able to leverage the resulting R datasets to develop, validate and deploy all powerful and scalable KnowledgeSEEKER predictive models including market-leading Angoss Decision Trees and unique Strategy Trees. KnowledgeSEEKER models and workflows developed with R datasets are quickly and easily generated into enterprise ready deployment code in SAS, SQL, or PMML.
"We are excited to introduce the new R workflow node to the analytics community at PAW Toronto," comments Angoss President and CEO, Martin Galligan. "This will enable seamless collaboration across analytics departments with analysts using both R and language of SAS, working within the same advanced predictive analytics tool as business users."
Predictive Analytics World Toronto 2014 (May 12-15) is a business-focused event for predictive analytics professionals and managers which will cover hot topics and advanced analytics methods and applications. Delivering case studies, expertise, and resources, the global PAW events are unique, with analytics content across verticals such as banking, financial services, e-commerce, entertainment, government, healthcare, high technology, insurance, non-profits, publishing, and retail.
Visit Angoss at PAW Toronto at Booth 708:
Join the Angoss live webinar event on May 22, 11 a.m. EST to learn more about the power of the language of R workflow node. Register now!
About Angoss Software Corporation
Angoss is a global leader in delivering predictive analytics to businesses looking to improve performance across risk, marketing and sales. With a suite of desktop, client-server and big data analytics software products and cloud solutions, Angoss delivers powerful approaches to turn information into actionable business decisions and competitive advantage. Angoss software products and solutions are user-friendly and agile, making predictive analytics accessible and easy to use. Many of the world's leading financial services, insurance, retail, health care and information communication and technology organizations use Angoss predictive analytics software products and solutions to grow revenue, increase sales productivity and improve marketing effectiveness while reducing risk and cost. Headquartered in Toronto, Canada, Angoss also has an office in the United Kingdom. For more information, visit http://www.angoss.com.