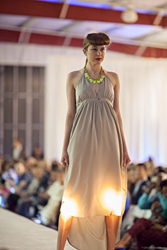 Galveston, TX (PRWEB) May 13, 2014
Tents are going up, the stage is being set, and people are dying to get their hands on Fluid Swimwear's bathing suits and women's apparel. Now they're in for an even bigger surprise, Fluid is offering a price drop on apparel by nearly thirty percent on all their sunwear and on some, the price drop is even greater.
"I chose to drop the prices on our sunwear during Galveston Island Beach Revue because, as a sponsor and vendor here, we want to make a lasting impression and as people buy our sunwear, they will have a higher likelihood of extending their Fluid wardrobe with a bathing suit," says Megan Turnbow, founder and CEO of Fluid Swimwear.
The Galveston Island Beach Revue is hosted by the Hotel Galvez and Spa and is held on May 16th and 17th, 2014 at Beach Central in Galveston, Texas. This revived beauty pageant from the 1920s was once deemed The Pageant of Pulchritude and gave start to the Miss Universe Pageant. After being revived in 2008, the vintage feel is still kept alive in homage to its beginnings.
Fluid Swimwear has dropped the prices of its Ibiza, Venice, and Bahia dresses to $50, the Acapulco and Westhampton tops to $35, and the Athens shorts and Malibu top to $30 for Beach Revue attendees. For those who wish to celebrate the event by purchasing online at http://www.fluidswimwear.com, their sunwear discount will be 25% with free shipping.