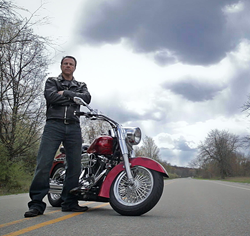 This donation was a concrete opportunity to contribute to motorcycle safety education. I want to do what I can to help reduce the number of people involved in or affected by motorcycle crashes.
Detroit, MI (PRWEB) May 08, 2014
On Tuesday, May 7, as part of his commitment to giving back to the biker community, Motorcycle Accident Attorney Jason Waechter met with representatives from the Motorcycle Safety Foundation (MSF) and Schoolcraft College to make a special presentation. Waechter donated one of his own personal motorcycles to the MSF, which will be used at the Schoolcraft College location for their Motorcycle Safety training program. "I try to contribute to motorcycle safety and awareness campaigns in any way I can," says Waechter. "When I heard about the program's need for bikes, I saw it as a concrete opportunity to contribute to motorcycle safety education." He adds, "I also have a soft spot for this location and program, because it's where I took my rider safety training class many years ago."
The MSF is a national not-for-profit organization that provides rider training and promotes motorcycling safety. According to their website, their mission is "To make motorcycling safer and more enjoyable by ensuring access to lifelong quality education and training for current and prospective riders, and by advocating a safer riding environment." Schoolcraft College is a member of the Detroit Metro Motorcycle Safety Consortium, along with several other community colleges in the area. The Consortium offers "hands-on, comprehensive motorcycle safety training… taught by professional, certified instructors." They offer a Basic Rider course for new, unlicensed motorcyclists and a 3-Wheel Basic Rider course for those who want to learn to ride a trike. They also offer a Returning Rider course designed for unlicensed but experienced motorcyclists, and an Advanced Rider course for experienced, licensed riders who want to hone particular skills on their own motorcycle. "In Michigan, if you want to ride a motorcycle legally, you need your CY endorsement," explains Waechter. "Taking and passing a certified rider training program like the one offered at Schoolcraft is a big step towards getting endorsed."
Vince Consiglio, RiderCoach and coordinator for the Detroit Metro Motorcycle Safety Consortium, and Kristen Schopieray, Motorcycle Safety Program Manager at Schoolcraft, were on hand to accept the donation. Debbie Parinello, a member of Waechter's staff who also sits on the Motorcycle Safety Advisory Team, alerted Waechter to the need for donated motorcycles. "Debbie mentioned that the need for training bikes kept coming up at meetings, and I decided on the spot to donate one of my motorcycles. I had barely put any miles on it and I knew it was a safe, maneuverable, and reliable bike. I've even seen this same bike, the Suzuki TU 250X, in the fleet of bikes they use for the training classes, so I figured it was a perfect fit," he says.
Waechter will continue to give back to the biker community by supporting motorcycle awareness campaigns, including offering free "Watch for Motorcycles" bumper stickers on his website and hosting billboards in the Detroit Metro area. "I've seen first-hand how devastating a motorcycle crash can be, both for the victim and the people they care about," he says. "If I can help reduce the number of people involved in or affected by crashes, I will."
####
Jason Waechter has spent two decades cementing his reputation for results. Over the years, he has specialized his practice to motorcycle accidents. Jason has fought tirelessly for accident injury victims and contributed significantly to safety education and accident prevention. He has entrenched himself as one of the nation's premier lawyers. If you or a loved one has been injured in an accident, call 1-800-708-5433 to speak with a lawyer who can help.