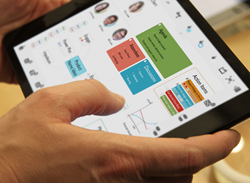 The real magic comes from having these functions all connected in front of you on the same app on the same page.
Chicago, IL (PRWEB) May 09, 2014
MagicalPad® today unveils a new version of MagicalPad for iPad, the most significant update since the UI update. MagicalPad is the only app that combines mind maps, outlines, notes, tasks & to-dos, checklists and more in a free-form fluid layout – all on the same app on the same page.
This update brings three major innovations to the app; while not novel by themselves, they are implemented in a unique interwoven way that make them powerful together. Today's release further delivers on MagicalPad's promise of having one productivity app for organizing thoughts, notes, ideas and tasks in a visually appealing free-form layout. It can be used for school, personal and business needs.
MagicalPad now combines four major productivity apps in one, which makes it a unique productivity app:
Advanced Mind Mapping
MagicalPad's advanced mind mapping tools allow more freedom in brainstorming and note taking. Users can have unlimited mind-maps and outlines on the same page and convert freely from mindmap to outline and vice versa.
Powerful Outlining
Powerful outlining capabilities allow users to structure ideas and move them around the page. With the drag/drop capabilities, users can merge and split outlines, lists and mindmap branches to prioritize and vote for the best idea in a brainstorming setting for example.
Visual Task Management
Visual task manager is a powerful task management engine that sits within outlines and mind maps enabling users to visually manage tasks like a dashboard. Any item can have icons, tags, set dates, priority and attachments.
Dedicated Task-View
Just like traditional task management apps, users can also track the same tasks in a very focused fashion. Contexts include dates, tags, notebooks, pages and more. At any time users can switch between page view and task view.
This Is Where Magic Comes From...
While these functions are powerful on their own, "the real magic comes from having them all connected in front of you on the same app on the same page," said Bouchra Ben, Product Manager with MagicalPad.
Good for personal, school or business use.
This release also brings a load of attachment types to tasks and items including PDF, Microsoft Office, and Apple iWork document types. "Video and audio are in the plan," said Bouchra.
MagicalPad for mac will be released this month as it is submitted to Apple for review according to management.
MagicalPad is a Chicago based start-up championing innovative apps for visually organizing and managing information and ideas to drive structured thinking, spark creativity, and enhance innovation and effectiveness.