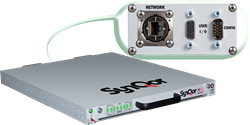 Boxborough, MA 01719 (PRWEB) May 08, 2014
The Ethernet Option on the SynQor UPS-1500 and UPS-3000 products adds a web and an SNMP interface for control, configuration, and reporting.  The web interface provides a dynamically updated set of pages for user interaction, including configuration of email alerts for UPS alarm conditions. 
The SNMP interface exposes the RFC-1628 standard UPS-MIB.  The Ethernet interface supports 10BASE-T and 100BASE-T standards.   It utilizes a standard RJ-45 connector, also allowing a metallic sealable circular military outer housing.
SynQor's UPS products are available for immediate evaluation and purchase.  Datasheets, the Ethernet and SNMP Operator's Guide and other information are available on SynQor's website, http://www.synqor.com.