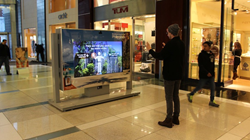 Immersive kiosks create a memorable experience and provide potential travelers with the opportunity to explore unique attractions/destinations within the Philippines.
(PRWEB) May 12, 2014
Travelers will experience the thrills that await them in the Philippines when they pay a virtual visit to the exotic destination via an interactive immersive kiosk that offers a taste of the fun in the Philippines. The Philippines Tourism Board's "It's More Fun in the Philippines" kiosk is helping to send a message that the destination is back and ready for tourists. The kiosk invites travelers to the Philippines via interactive scuba diving and rock climbing experiences; it will also showcase lively streets, beaches, and towns. The kiosk will debut in Chicago at Water Tower Place where it kicks off a North American tour to five cities over three months.
The kiosk was designed by Pearl Media (http://www.pearlmediaus.com), experts in redefining out of home media through surprising and engaging experiences that make lasting impressions. The branded kiosk tells the story that "It's More Fun in the Philippines" through a series of interactive experiences of rock climbing and scuba diving activated by gesture-technology. Visitors who "travel" at the brightly branded kiosk will be entered into a sweepstakes to win an iPad, one per market. They'll also receive an action photo/postcard of their experience as a souvenir. The photo can be shared instantly on the visitor's social media profiles as well as on the Philippines Tourism board website http://www.itsmorefuninthephilippines.com.
According to Josh Cohen, CEO, Pearl Media, "Immersive kiosks are an entertaining way to communicate the brand message that the Philippines is a destination worth considering. We designed this experience to provide potential travelers with the opportunity to explore unique attractions/destinations within the Philippines and create a memorable experience that could influence their vacation plans."
The Pearl Media team created, built, and installed the interactive kiosk that is activated through gesture-based technology. As consumers step up to the branded station, they will see stunning HD content of the best that the Philippines has to offer. The virtual travelers will be prompted to take their Philippines adventure by either rock climbing, or scuba diving. The adventure ends when their photo is snapped, and superimposed into the magnificent Philippines scenery to create a postcard. The traveler can then retrieve their "postcard" on their phone and instantly share it with friends.
The Philippines kiosk makes stops at some of North America's most frequented shopping centers:
Chicago, Water Tower Place, May 12 – May 27
Los Angeles, Beverly Center, June 2 – June 15
San Francisco, Stonestown Galleria, June 23 – July 6
Vancouver, Aberdeen Center, July 14 – July 27
Toronto, Toronto Outlet Center, August 4 – August 17
To get a sneak peek, check out the video: https://vimeo.com/94533557.
About Pearl Media
Pearl Media (http://www.pearlmediaus.com) creates interactive brand experiences for events, out-of-home advertising and social media to attract, engage and connect with target audiences using the latest in emerging technologies. Through memorable consumer engagements with multiple touch-points, Pearl Media extends brand impact in categories including: automotive, spirits, fashion, CPG, retail, gaming and entertainment, and more. Headquartered in Fairfield, NJ, with offices in Los Angeles, Chicago and Miami, Pearl Media extends brand-to-consumer relationships through innovative media creations.