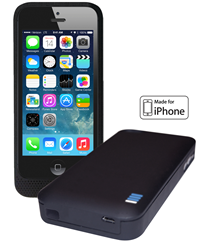 Dallas, TX (PRWEB) May 09, 2014
When iOS 7.1.1 launched late last month, it was supposed to resolve several iPhone 5/5S woes, chief among them poor battery life. For some iPhone users who have installed the software update, that intended workaround has indeed transpired; others have not been so lucky. For those iPhone 5/5S users who are tired of relying on Apple to fix its glitches, LifeCHARGE reveals a non-Mac resolution. The company's battery cases for iPhone 5 and 5S supercharge the smartphone's battery no matter which version of the operating system is being used.
According to a recent Business Insider (http://www.businessinsider.com/ios-7-1-1-battery-life-changes-for-iphone-5-2014-4) tech report, although "Apple's newest software update for iPhones and iPads, iOS 7.1.1," may be "bringing improved battery life to the iPhone 5," "other users have reported some odd issues immediately after updating to iOS 7.1.1." Among these problems, "A handful of iPhone 5s users have reported that the update instantly drained their phone's battery." LifeCHARGE's battery cases for iPhone 5 and 5S allow these unfortunate individuals to take reliable charging matters into their own hands.
For more information about how a LifeCHARGE iPhone 5 or 5S battery case can enhance the battery life with any version of iOS, contact OnTrion's Jesse Khurana. To learn more about the LifeCHARGE battery cases for iPhone 5 and 5S, visit the manufacturer on the web at http://www.mylifecharge.com.
###
CONTACT INFORMATION:
13650, TI Blvd., Suite #309
Dallas, TX 75243
(877)676-0877