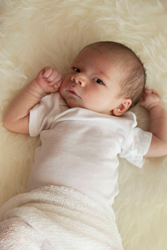 Houston, TX (PRWEB) May 08, 2014
Children's Memorial Hermann Hospital is proud to become one of only a handful of hospitals in the nation – and the first and only hospital in Houston – to offer a highly specialized, comprehensive Neuro-Neonatal Intensive Care Unit (Neuro-NICU) Program. Through this new capability, Children's Memorial Hermann Hospital will be able to offer the best possible outcomes for newborn babies with neurological complications.
"From the initial planning phase to in-depth staff training to acquiring all of the necessary top-of-the-line equipment, including five new aEEG (amplitude-integrated EEG) machines, this groundbreaking program has been three years in the making," said Nicole Francis, clinical director of Neonatal Services at Children's Memorial Hermann Hospital. "Timing is critical when it comes to these cases and we strongly believe that with access to this cutting-edge clinical technology, we will be able to deliver a higher quality level of care to this very specific neonatal patient population, faster than ever before."
One such possible neurological complication is birth hypoxia (hypoxic-ischemic encephalopathy, also known as perinatal asphyxia), which happens when newborns are deprived of oxygen before, during, or shortly after birth. This lack of oxygen damages brain and spinal cord cells. According to the American Journal of Neuroradiology, birth hypoxia happens in two to 10 per 1000 newborns who are born at term, and more for those who are born prematurely. Depending on the severity of the hypoxia, resulting conditions can range from extreme mental disabilities and/or seizures to death.
Previously, the only available option for monitoring these babies was a regular EEG (electroencephalography), which records the brain's spontaneous electrical activity over a short period of time, usually 20 to 30 minutes. But, if no relevant brain activity is recorded during that time, then no data is delivered and no action can be taken.
Thanks to this brand new, specialized medical equipment and the highly-trained nursing and physician team of advanced neonatal specialists, Children's Memorial Hermann Hospital is uniquely qualified to treat this group of patients. With five state-of-the-art aEEG machines now available, nurses can continuously record a baby's brain function in real time, with easier initiation and for an extended period of 24 hours or longer if needed.
"This around-the-clock, uninterrupted monitoring system will allow for the delivery of faster, better data which will lead to faster, more accurate diagnoses and, therefore, speedier treatment options provided by our team of expert pediatric neurologists and neurosurgeons," said Dr. Gretchen Von Allmen, director of the Pediatric Epilepsy Program at Children's Memorial Hermann Hospital and assistant professor at UTHealth Medical School.
The program launched in late April and, on day one of operation, the team of neonatal specialists was able to put the new equipment to work on a newborn child in need. "Shortly after our son, Morris, was born at Memorial Hermann Southwest Hospital, our physicians there were concerned he may have been suffering from birth asphyxia due to complications with the umbilical cord during delivery," said Morris' father, Kristian Dunford. "When they told us they wanted to rush him via Memorial Hermann Life Flight® to Children's Memorial Hermann Hospital, his mother and I were of course very scared. But then they explained it was to get him to the new Neuro-NICU and into the care of the top experts in this field in the city. That helped to reassure us – to know our newborn son would be in the best possible hands."
"After several days of close monitoring, thankfully all of Morris' tests came back negative and, last week, we were able to bring home our happy baby boy," said Dunford. "We will always be grateful to the teams at both Memorial Hermann campuses who collaborated quickly and seamlessly to help ensure the health and safety of our firstborn child."
Symptoms of birth hypoxia may include increased muscle tone; poor feeding behavior; excessive crying; excessive sleepiness or lethargy; irregular breathing; irregular eye movement; irregular heart rate and blood pressure; absence of reflexes such as sucking, swallowing and grasping; or seizures. When one suspects birth hypoxia, it is imperative that the infant get to a specialist to begin treatment and monitoring within six hours of delivery.
The new Neuro-NICU program will be operating in addition to the whole-body cooling service Children's Memorial Hermann Hospital has already been offering this patient population for more than a decade. By lowering the temperature of an oxygen-deprived newborn and cooling the baby's vasculature thereby allowing the brain to rest, physicians have seen great success in improved outcomes by saving brain cells that may have otherwise died or been severely damaged.
"As one of the first hospitals in the nation to use whole-body hypothermia for newborns suffering from birth hypoxia, our team has been leading the way in research and technology in the field of neuro-neonatology for many years," said Susie Distefano, CEO of Children's Memorial Hermann Hospital. "Now with the addition of our new 24-hour Neuro-NICU monitoring program, we are continuing to refine and speed medical treatment for these complex cases by improving upon the already advanced level of care we have available to these tiny patients, delivering the best possible results."
###
About Memorial Hermann
An integrated health system, Memorial Hermann is known for world-class clinical expertise, patient-centered care, leading edge technology, and innovation. The system, with its exceptional medical staff and more than 20,000 employees, serves to advance health in Southeast Texas and the Greater Houston community. Memorial Hermann's 12 hospitals include three hospitals in the Texas Medical Center, including the Texas Trauma Institute – a level I trauma center which houses the Life Flight® air ambulance – a hospital for children and a rehabilitation hospital, eight suburban hospitals, and a second rehabilitation hospital in Katy. The system also operates three Heart & Vascular Institutes, the Mischer Neuroscience Institute, three Ironman Sports Medicine Institute locations, cancer centers, imaging and surgery centers, sports medicine and rehabilitation centers, outpatient laboratories, a chemical dependency treatment center, a home health agency, a retirement community and a nursing home. As an Accountable Care Organization, the system also offers employers health solutions and health benefit plans through its wholly owned Memorial Hermann Health Insurance Company.
About Children's Memorial Hermann Hospital
Part of the 12-hospital Memorial Hermann Health System, Children's Memorial Hermann Hospital is a 278-bed hospital dedicated to pediatric and neonatal care with an additional 68 beds dedicated to women's services. The hospital's special compassion and healing expertise has distinguished it as one of the finest children's hospitals in the nation. In partnership with The University of Texas Health Science Center at Houston Medical School, Children's Memorial Hermann Hospital specialists provide care for more than 120,000 patient visits annually, including the tiniest premature infants, children and adolescents. Memorial Hermann takes a holistic approach to healthcare, offering programs and services that address the physical, social, psychological and spiritual aspects of well-being. An integrated health system, Memorial Hermann is known for world-class clinical expertise, patient-centered care, leading-edge technology and innovation. The system, with its exceptional medical staff and 22,000 employees, serves southeast Texas and the greater Houston community. Learn more about Children's Memorial Hermann Hospital.