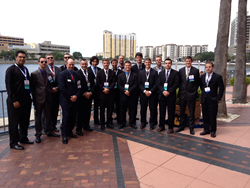 "This year's group receiving scholarships from the NBAA was unprecedented." Chris Carta, Embry-Riddle
Daytona Beach, FL (PRWEB) May 09, 2014
Students from Embry-Riddle Aeronautical University were granted a record 17 Maintenance Technical Reward and Career Scholarships (TRACS) out of 41 total scholarships awarded at the annual NBAA (National Business Aviation Association) Maintenance Management Conference last month in Tampa, Fla.
"This year's group of students receiving scholarships from the NBAA was unprecedented," said Chris Carta, admissions and marketing manager for Embry-Riddle's Aviation Maintenance Science Department. "Fourteen of the 17 students were able to attend the conference and receive the scholarships personally, then spend the day networking with their future colleagues."
The scholarships are training awards donated by the NBAA and the business aviation industry. The course-specific, advanced training is supplied by leading aviation-maintenance companies, including GE Aviation, Rolls Royce Engine, Dassault Falcon Jet, Bell Helicopter and Honeywell Aerospace.
"The University has been steadfast in its commitment to aviation maintenance education," said Dr. Tim Brady, dean of the College of Aviation at Embry-Riddle's Daytona Beach Campus. "The excellent achievements of our students underscore that commitment."
Daytona Beach Campus scholarship recipients and their TRACS courses:
Paul Mart, Textron Aviation Citation CE-560 Maintenance Initial
Howard Hruby, GE Aviation CFM56 Line Maintenance
Arthur Dyer, Global Jet Services 5-Day Course
Christopher Moore, Bombardier Aerospace Lear 45 Maintenance Initial
Christopher Chabot, Safran Turbomeca USA, Engine Line Maintenance
Elijah Drug, CAE Simuflite Hawker 800XP Maintenance Initial
Nathan Irvin, CAE Simuflite Intro to Digital Avionics
James Sullivan, CAE Simuflite Falcon 50/50EX Maintenance Initial
Jorge Almodovar, GE Aviation CF34 TurboFan Line Maintenance Course
Dustin Wesbecker, U.S. Army Reserve, Bell Helicopter Connector Maintenance
Jordan Heuerman, Honeywell Aerospace/CAE Simuflite Primus EPICPlaneview
Kyle Williams, GE Aviation H80 TurboProp Line Maintenance
Casey Rodriguez, Williams International FJ Engine Line Maintenance
Mark Grassi, Williams International FJ Engine Line Maintenance
Yamil Feliciano, Honeywell Aerospace/CAE Simuflite TPE-331 Turboprop Line Maintenance
Worldwide Campus scholarship recipients and their TRACS courses:
Paul Murphy, U.S. Coast Guard
Gina Wesley, U.S. Army Reserve
The NBAA represents more than 10,000 companies that rely on general aviation aircraft to help make their businesses more efficient, productive and successful. Each year, the NBAA awards Maintenance TRACS to applicants currently employed in general aviation who hold an Airframe & Powerplant (A&P) certificate, or students enrolled in an accredited A&P program or military aviation personnel transitioning into business aviation. Learn more about NBAA at http://www.nbaa.org.
MEDIA CONTACT: James Roddey, Communications and Media Relations Manager, Embry-Riddle Aeronautical University, Daytona Beach, Fla.; (386) 226-6198; james (dot) roddey (at) erau (dot) edu.
About Embry-Riddle Aeronautical University
Embry-Riddle Aeronautical University, the world's largest, fully accredited university specializing in aviation and aerospace, is a nonprofit, independent institution offering more than 70 baccalaureate, master's and Ph.D. degree programs in its colleges of Arts and Sciences, Aviation, Business and Engineering. Embry-Riddle educates students at residential campuses in Daytona Beach, Fla., and Prescott, Ariz., and through the Worldwide Campus with more than 150 locations in the United States, Europe, Asia, and the Middle East. The university is a major research center, seeking solutions to real-world problems in partnership with the aerospace industry, other universities and government agencies. For more information, visit http://www.embryriddle.edu, follow us on Twitter (@EmbryRiddle) and facebook.com/EmbryRiddleUniversity, and find expert videos at YouTube.com/EmbryRiddleUniv.
###