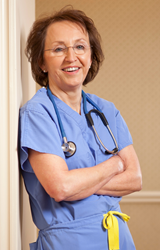 When you start taking care of your own wellness, every area of your life skyrockets.
St. Louis, MO (PRWEB) May 09, 2014
The event will be held at the Sheraton Westport Hotel in St. Louis on Friday, May 9th, and it is expected to draw hundreds of health-conscious guests looking to expand their knowledge of wellness through Dr. Patricia Sulak's keynote speech.
According to the hospital, attendees will be able to participate in dozens of exciting activities throughout the day and speak with numerous healthcare professionals on a variety of health-related topics. Dr. Oscar Schwartz, a pulmonologist with the Barnes-Jewish Hospital West County Sleep and EEG Laboratory, will deliver the morning keynote address. Schwartz is expected to discuss sleep disorders in women, while Sulak will talk about habits that promote health and happiness. After their respective presentations, Schwartz and Sulak will field questions from the audience.
Because of the growing popularity of "Pearls of Wisdom", registration was held on a "first come, first served" basis. Last year, over 600 women attended the event and pledged to recognize the symptoms of heart attacks.
JoAnne Meives, who oversees the hospital's community education program, and other program organizers believe that attendees will benefit tremendously from the panel's expertise in the field of adult wellness and scientifically-proven healthy lifestyles that prevent disability and disease.
"Patricia will advise people on how to lead a healthy and happy life," said Meives, who started "Pearls of Wisdom" with the help of other hospital staff in 2001 to promote healthy living among working women. "When they leave the event, they will be able to incorporate things they can use every day."
"Even if people make only one change in their lives, their health would improve tremendously."
Sulak, a Dudley P. Baker Endowed Professor of Research and Education in Obstetrics and Gynecology and the recipient of a community service award from the American College of Obstetrics and Gynecology, looks forward to sharing her knowledge with the audience.
"My whole life has been about recognizing problems and finding solutions," said Sulak. "When you start taking care of your own wellness, every area of your life skyrockets." These are the insights Dr. Sulak will be sharing with the audience in her keynote speech and in her upcoming book 'Should I Fire My Doctor' due to launch through Next Century Publishing late June 2014.
About Dr. Patricia Sulak
Dr. Patricia Sulak is a distinguished physician, researcher, and educator. A Dudley P. Baker Endowed Professor of Research and Education in Obstetrics and Gynecology, Sulak has received numerous teaching and research awards and has been included in "Best Doctors of America" and "Texas Super Docs." Dr. Sulak specializes in adult wellness with an emphasis on promotion of scientifically proven healthy lifestyles to prevent disability and disease. http://www.livingwellaware.com/